Elder Construction In Austin
T-Square Company Is An Aging in Place Specialist
Custom Aging In Place design/build Home Modifications for our customers who have decided to remain in their existing homes for as long as possible. When working with home modifications, we see two primary client types. First, are aging-in-place customers. These clients want to remain living in their homes as they get older rather than move to a facility. The second client is a person with a disability. These clients have become disabled by means other than the aging process. Designing around specific physical conditions for handicap accessibility will lessen the impact of say arthritis, restricted mobility, or loss of vision by using combinations of products, concepts, and techniques available today. Working as a team, a trained CAPS specialist along with any family caretakers or therapists is able to identify the day to day problems weighing on those with health limitations. If you are considering an aging in place remodel for your home don't just contact any local remodeler in your area and expect a satisfactory accessible home modification. A professional design/build accessibility project can only be created for your specific needs by a qualified home remodeler having a nationally accepted CAPS (Certified Aging In Place Specialist) certification. This credential is backed by the NAHB. Only a CAPS home remodeler possesses the specific knowledge that will insure a successful outcome for your accessibility or aging in place project and what's more, keep you in your home longer.
The baby boomer generation has many choices as this large population of potential clients for remodelers, builders, contractors and occupational therapists considers where to live – but overwhelmingly, seniors would prefer to stay in their own homes. The CAPS designation offers potential clients what they need most: reassurance that you'll help them make the choices that will help them stay in their homes safely and securely.
As reported by AARP, 80% of seniors have a firm plan to age in place. There are some home modifications that should be completed to make aging in place more possible for older adults, though. These modifications are a proactive approach to increasing the level of safety in the home, and they often add convenience and comfort for seniors as well. While there are sometimes high costs associated with modifying homes to enable seniors to age in place, many older adults are happy to incur these expenses to fulfill their wish to remain in their own homes.
Let's face it, accessible homes are needed by all of us at some time in our lives. This is true whether it's for ourselves, a family member, or a guest. The need is certainly not driven by age but is a result of life's experience. Any family living with disability among any of the generations within it's group can always benefit from additional accessibility. This will in turn increase safety and independence for all involved as they go through life.
Five must have home modifications for seniors aging in place will include wider doorways, the installation of ramps, kitchen modifications, shower and bath tub modifications, and flooring modifications. The best course of action to take when making home modifications for seniors aging in place is to consider all of the areas of the home that present the most trouble or concern. If there are things that are especially difficult for seniors, like reaching the countertops or light switches, modify them. If there are potential tripping or falling hazards, eliminate them or modify them accordingly. Taking a proactive approach to modifying the home means that seniors can age in place independently while their loved ones have peace of mind knowing that their aging loved ones are safer in their homes.
Finding a contractor familiar with the guidelines of accessibility can be quite difficult. Be sure to check out the credentials of any potential bidders you contact. Be sure they understand that the alterations you are seeking are for wheel chair accessible home remodeling and modifications. Furthermore be sure this person knows and practices both the federal and most importantly your state's requirements before entering into any contract concerning Austin accessible home remodeling. The total assessment of any situation involving increased accessibility requires the input of the qualified building remodeler and any caretakers or family members who are involved with the person requiring the home modifications.
Aging in place home modifications are available through T-Square Company. We are a certified aging in place specialist. Each design/build situation will be customized to fit your personal needs increasing your accessibility. Call 512-444-0097 today to begin the accessible second chapter of your life while remaining safe and secure in your existing home. CAPS #1636580
Fill out our form below and find out how we help our customers to stay healthy, independent, and safe in their existing homes.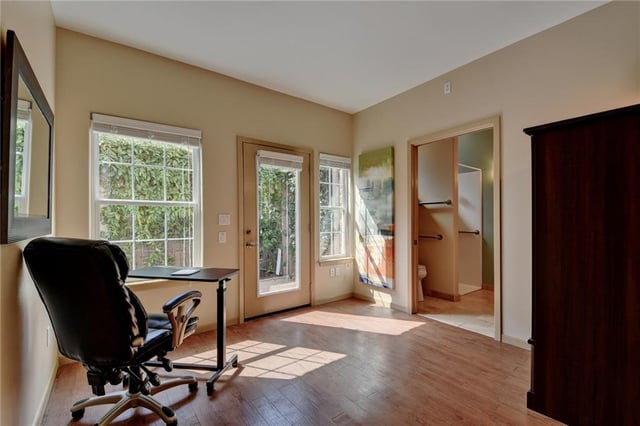 We offer Austin elder construction and complete aging in place designs and services:
Accessible Home Remodeling for any kind of disability

Bathroom modifications for elderly

ADA compliant kitchen and bath cabinets

we are handicap remodeling contractors
contact us