Regardless of your age, you may want to recognize and take under advisement some universal design techniques for your next new construction or home remodeling project. Some people confuse aging in place with universal design. Both are a method to increase accessibility within the home but aging in place strictly deals with an existing home. Aging in place design also implies modifying any home for it's older occupants to insure that the inhabitants can safely remain there as long as they possibly can through elder living solutions. This time will expire once they need assisting medically trained help for safeguarding their personal safety in a nursing home or an assisted living environment. Universal design is just that; offering choices to all of a home's residents no matter their age or physical capabilities. It starts with a design and then the construction begins. When universal design ideas are incorporated into their floor plan, homes can accommodate the needs of their owners as those needs evolve over time. Better yet, at time of resale your home will be available to a much larger market of consumers.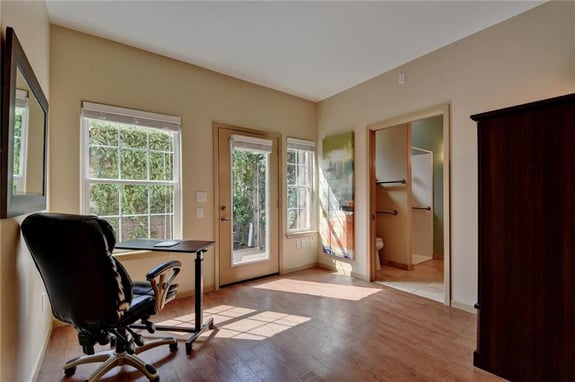 There are really three categories of aging in place customers requiring home modifications. Those who are simply and wisely planning ahead for their futures to remain in their present homes. The second category concerns those people who know they have a chronic medical disorder and need to prepare in advance for accessibility issues which will come as a result of their disease. People with diseases that are constantly causing increased physical or mental changes to their being are a good representative of this second group. The third group involves those people who either have had a chronic problem that has progressed severely altering their mobility or those who have sustained a life altering tragedy such as being involved in an accident. All of these groups will drive the future metamorphosis of existing inaccessible dwellings.
Each individual with similar impairments describes his or her limitations differently when undergoing elder construction. The blind don't experience their world the same as a person with deafness. The checklist below contains features you may want to consider for your next new construction or renovation project. It also provides a quick reference for various aging in place issues. Because this list is not comprehensive due to people's differing needs, it's best to also consult with a Certified Aging In Place Specialist. To find one in your area, go to nahb.org/capsdirectory.
Aging In Place Designs
The interior floor plan
A single story one level living area without steps between living areas or attached rooms
A 5-foot by 5-foot clear/turn space in living area, kitchen, a bedroom, and one bathroom
A clear hallway of at least 36" in width being well lit providing an accessible barrier free route of travel throughout the home
All thresholds and transitions along the clear floor space should be tapered and no more than 1/2" in height
All doors should be minimally 36" wide along the accessible route producing a 32" clear opening. All doors should have lever hardware
Kitchen and laundry
Wall support and provision for adjustable and/or varied height counters and removable base cabinets
Upper wall cabinetry three inches lower than conventional height
Accented stripes on edge of counter tops to provide visual orientation to the work space
Counter space for dish landing adjacent to or opposite all appliances
Base cabinet with roll out trays and lazy Susans
Pull-down shelving
Glass-front cabinet doors
Open shelving for easy access to frequently used items
Appliances
Easy to read controls located at front
Washing machine and dryer raised 12-15 inches above floor
Front loading laundry machines
Microwave oven at counter height or below
Side-by-side refrigerator/freezer
Side-swing or wall oven
Raised dishwasher with push-button controls
Electric cook top with level burners for safety in transferring between the burners, front controls and downdraft feature to pull heat away from user; light to indicate when surface is hot
Miscellaneous
A 30-inch by 48-inch clear space at appliances or 60-inch diameter clear space for turns
Multi-level work areas to accommodate cooks of different heights
Open under-counter seated work areas
Placement of task lighting in appropriate work areas
Loop handles for easy grip and pull
Pull-out spray faucet; levered handles
Bathroom
Wall support and provision for adjustable and/or varied height counters and removable base cabinets
Contrasting color edge border at counter tops
At least one wheelchair maneuverable bath on main level with 60-inch turning radius or acceptable T-turn space and 36-inch by 36-inch or 30-inch by 48-inch clear space
Bracing in walls around tub, shower, shower seat, and toilet for installation of grab bars to support 250-300 pounds
If stand-up shower is used in main bath, it is curbless and minimum of 36-inches wide or for any custom tub shower conversions
Bathtub - lower for easier access
Fold down seat in the shower
Adjustable/handheld shower heads, 6-foot hose
Tub/shower controls offset from center and below 48"
Low profile shower stall with built-in antibacterial protection
Light over shower stall
Comfort height toilet two and half inches higher than standard toilet (17-19 inches) or height-adjustable
Design of the toilet paper holder allows rolls to be changed with one hand
Wall-hung sink with knee space and panel or insulation to protect user from scalding pipes
Slip-resistant flooring in bathroom and shower
Electrical, lighting, safety, and security
Light switches by each entrance to halls and rooms
Light receptacles with at least two bulbs in vital places (exits, bathroom)
Light switches, thermostats, electrical panels and other environmental controls placed in accessible locations no higher than 48 inches from floor
Electrical outlets 18-inches above the floor and may need to be closer than 10-feet apart
Clear access space of 30-inches by 48-inches in front of switches and controls
Rocker or touch light switches
Easy-to-see and read thermostats set at or below 48"
Programmable thermostats
Home wired for security
Other ideas
Separate apartment for rental income or future caregiver
Flex room that can used as a nursery or playroom when the children are young and as a home office later; if combined with a full bath, room could also be used for an aging parent/aging in place
Let's face it, accessible homes are needed by all of us at some time in our lives. This is true whether it's for ourselves, a family member, or a guest. The need is certainly not driven by age but is a result of life's experience sometimes requiring wheelchair remodeling. Any family living with disability among any of it's generations within it's group can always benefit from additional home accessibility. This will in turn increase safety and independence for all involved as they go through life.
The National Association of Home Builders, in partnership with the AARP and Home Innovation Research Labs, created the CAPS program, which includes training and education on the technical, business management and customer service skills essential to compete in the fastest growing segment of the residential remodeling industry--home modifications for aging in place. David L. Traut, CAPS owner of T-Square Company in Austin, Texas is one of the select group of professionals nationwide to earn the Certified Aging-In-Place Specialist (CAPS) designation, identifying him as a home remodeler and builder with the skills and knowledge necessary to remodel or modify a home to meet the unique needs of the older population, disabled owners or their visitors.
For additional information about the CAPS program, visit nahb.org/CAPS. For more information about T-Square Company, visit www.tsquareco.com or call 512-444-0097.