Universal Design does not equate to accessibility design even though they both are concerned with ergonomics and human function issues. The ADA guidelines for accessibility were created as a means to help those people with extreme disabilities within our society who are a narrow and specific cross section of the masses. A UD approach broadly takes into account moderate impairments or disabilities, temporary health conditions, and the varying abilities of anyone within a home regardless of their age or size. In other words, an ADA accessible home would be designed specifically for the one person with the disability whereas a UD home is designed for everyone.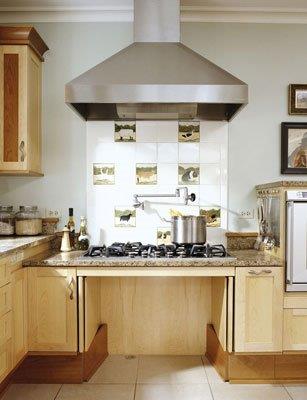 No matter how old you are you should periodically evaluate your residence to determine whether it suits you not just for the present but the future. Your home assessments will be rethought every time your living situation changes. Whether childproofing for a newborn, making a home more accessible following a sickness or unfortunate accident to someone in the family, or making a toilet area safer for an aging residing parent, there will be an immediate evolution to your primary domicile. These same life span design features are even more important if you believe you're past the age of wanting to move and are relishing the thought of aging in your own home, no matter what physical limitations you might later develop. Incorporating smart aging design concepts through universal design build ideas throughout a home will attract a larger group of buyers when you decide to finally sell your home. Everyone has special needs and there is no one size fits all solutions using universal design. A twenty five year old homeowner with a bad back is really not similar in needs to his or her aging eighty year old grandmother, although they both need added accessibility only in different but similar ways.

Kitchens have evolved because fewer cabinets are needed within the more open designs using Universal Design techniques. Fewer wall cabinets are needed because of personal reach limitations. For those that are used, they can be installed at 14" above the base cabinet work top instead of the standard 18" spacing. Dishes can be stored in specialized pull out shelves. Pull down upper shelving is available but can be very costly. The cabinet top is now lowered by two inches and installed at a universal 34" height. This makes a net 6 inch lower installation height for the bottom of the wall cabinet from the floor. All types of cabinet inserts like pull out shelves, lazy Susans, and specialized drawers are now available for installation in both base and wall cabinets to increase accessibility. These devices will certainly help solve the reach problem. Base cabinet kick spaces can be raised to 9" and deepened to 6" instead of the standard 4" to accommodate future wheelchair access. Recessed knee spaces can be incorporated into the design for roll under access at the sink, prep area, and cook top. A shallow cabinet with doors can be creatively installed in these areas disguising their intended future use.
The lack of bending motion and ever decreasing reach distances is changing the way we purchase and install appliances at comfortable heights. Placing dishwashers higher by a few inches to limit bending has become a reachable fad and the new height is changing the old look of our kitchens. Refrigerator or freezer drawers, dishwasher drawers, and double ovens that are no longer stacked represent just a few changes within the present day appliance marketplace. The ovens can be installed at the height the homeowner finds most comfortable. Cooking ranges and cook tops with the controls located on the front represent another metamorphosis helping with reach problems. Microwaves can be installed onto the now lowered 34" height counter top or preferably within the upper area of the lowered base cabinet according to the consumers need for adequate reach. The refrigerator should be a cabinet depth french door model giving access to the lower freezer and maybe an additional refrigerated drawer. Raising the dishwasher up at least 6" can be very helpful for access if you choose to use a conventional model.
Fewer doors represents a change in the cabinet market. The new open look lets homeowners access what is stored within the cabinet without an open door blocking their clear path for approach. No matter in what manner the doors are hung they always interfere with accessibility if they swing. They will become architectural barriers within the home at some time. Sliding doors are an option but can become a problem if dexterity and coordination ever become an issue. The open cabinet look is seen in both the bath and kitchen as the open shelves make it easier to find the items you need. If a more structural look is needed then glass fronts can be installed. The glass doors maintain the feeling of openness but with order.
The space between cabinets in a "C" or "U" configuration should be between 42-48" for wheelchair access. A 60" turning radius should be observed for a wheelchair turn if entirely possible within a larger kitchen floor plan. Cabinet hardware should be considered for the future. Small knobs can be a problem for people with arthritis. Graspable "D" handles are a better option. The larger the pulls the easier it is for everyone to use.

Cabinet tops at varying heights should be installed using universal design. A lower island top can become a work surface for someone seated or a six year old helper. This area can be sectioned off using a higher 42" top used for bar stools. Cabinet top materials must have eased edges at the angles to prevent injury. The choice of materials you use for your cabinet top must be both durable and easy to maintain.
Finding a contractor familiar with the guidelines of accessibility can be quite difficult. Be sure to check out the credentials of any potential bidders you contact. Be sure they understand that the alterations you are seeking are for wheel chair accessible home remodeling and modifications. Furthermore be sure this person knows and practices both the federal and most importantly your state's requirements before entering into any contract.
Aging in place services are available through T-Square Company. We are a certified aging in place specialist. Each design/build situation will be customized to fit your personal needs. Call 512-444-0097 today to begin the accessible second chapter of your life while remaining safe and secure in your existing home. CAPS #1636580