A Custom Kitchen Remodel In Austin Should Be Accessible To All!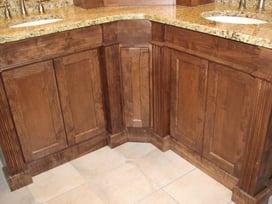 Modern cabinets are breaking away from the ornate design found in traditional cabinet styling, rather reflecting minimal trends such as simple, clean design features. Streamlining and modernizing kitchen and bathroom cabinetry works in tandem with other kitchen or bathroom furnishings such as new-age countertops and complimentary backsplashes. Our kitchens and bathrooms are no longer the 'Orphan Annie's" of our homes. These spaces now integrate with the rest of the home, and beautifully remodeled kitchens and bathrooms now serve as a main meeting space for our friends and families. Each surface has it's own set of pros and cons to take under advisement before a conclusion is reached making sure your selection blends with your lifestyle. Remember that any samples of materials you see are only small representations of any larger piece when choosing products. Furthermore protection from heat sources in the kitchen and curling irons in the bathroom and cutting boards should always be used no matter which top you choose in the kitchen. Kitchen upgrades and bathroom remodels return the most money at resale on the initial investment of the remodeling project. National averages show that kitchen remodels recoup around 70% of the costs of the upgrade at the time of resale.
Traditional face frame medium grade oak or maple cabinets will cost you around $160 per linear foot. Any exotic wood species are even more costly. Special cabinet amenities like pullouts beyond the basic drawer and shelf storage will add more to the total cabinet price. If the intent of your upgrade is to increase your accessibility via an ADA remodel as in wheelchair accessible, the new cabinets will most likely have to be custom made. These alterations should be done by a qualified residential construction contractor who is accomplished in dealing with the local ADA codes.
Frameless European full overlay style cabinets are a type of fine cabinetry having either a painted or stained wooden exterior or one with the exterior totally covered on all exposed surfaces in plastic laminate per your choice of color, pattern, or manufacturer. The laminated exterior application provides a much cleaner and more modern look for easier maintenance. The doors and drawer fronts on all European cabinetry are flat having no crevices to conceal grease and grime and directly overlay the cabinet box. Each door is mounted on the inside of the box using fully concealed and adjustable two part hinges. The frameless European style is represented only by the cabinet carcass or box, composed of the walls, bottom and top (if needed), and back without any face frame components yielding only a 3/4" outward appearance for all the stiles and rails. This European style which eliminates the usual two inch face frame gives full access to any stored contents with more usable room. These frameless cabinets limit the amount of exposed stile and rail surface area between the door and drawer faces. The exposed cabinet area is normally limited to 1/8-3/16 of an inch. This holds true between any two finished faces coming together presenting a half overlay situation on either a horizontal rail or vertical stile; hence, exhibiting the full overlay method. This clearance is also typical at the juncture toward the outside walls beside the cabinets. One other characteristic of the European design lies in the adjustable shelving. A series of 5mm holes are repeatedly drilled in 32mm increments (approximately 1 1/4") continuously at the front and back of all vertical cabinet pieces receiving shelves. This configuration allows for shelf supports to be inserted to adjust the shelves. In time, the shelf supporting "dogs" might wear out the holes and become loose causing the shelves to collapse. The retro use of metal pilasters will remedy the problem.
[previous] [first] [index] [last] [next]
Gallery of Previous Work - Please browse with the buttons above.
Modern Laminated European Cabinetry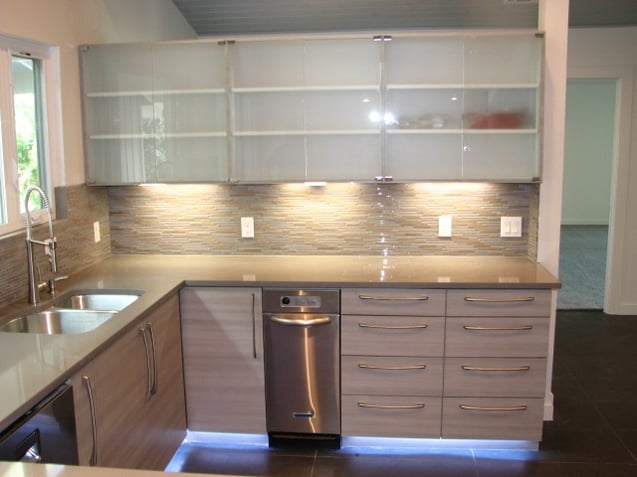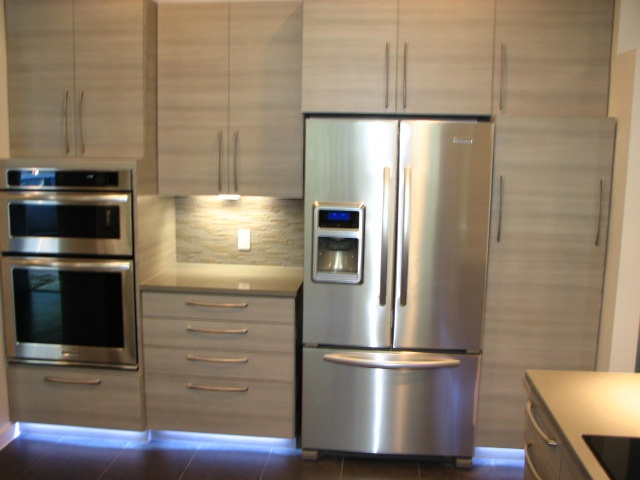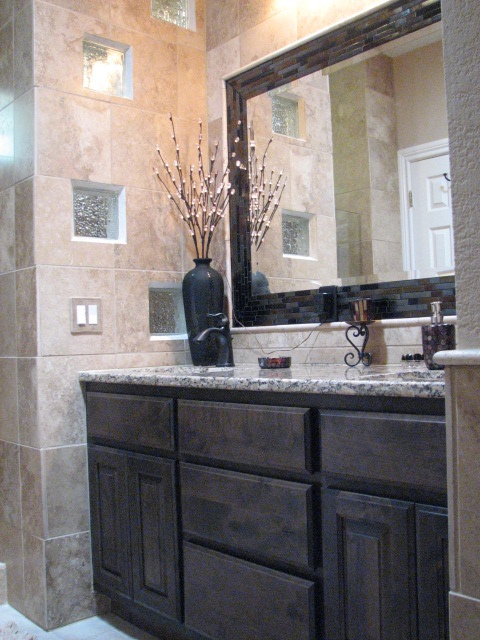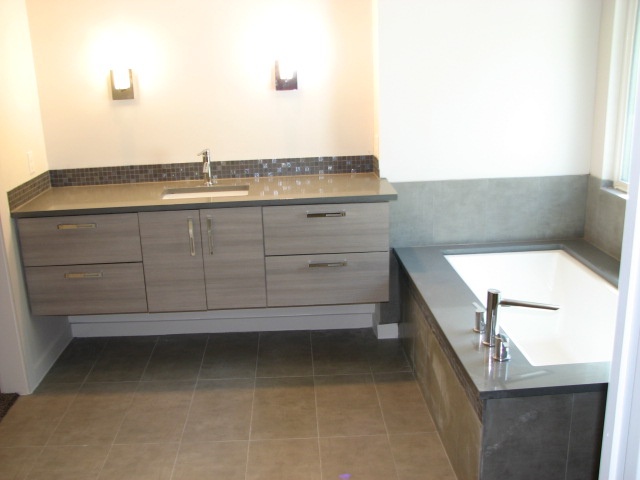 Wheelchair Accessible Bathroom Vanities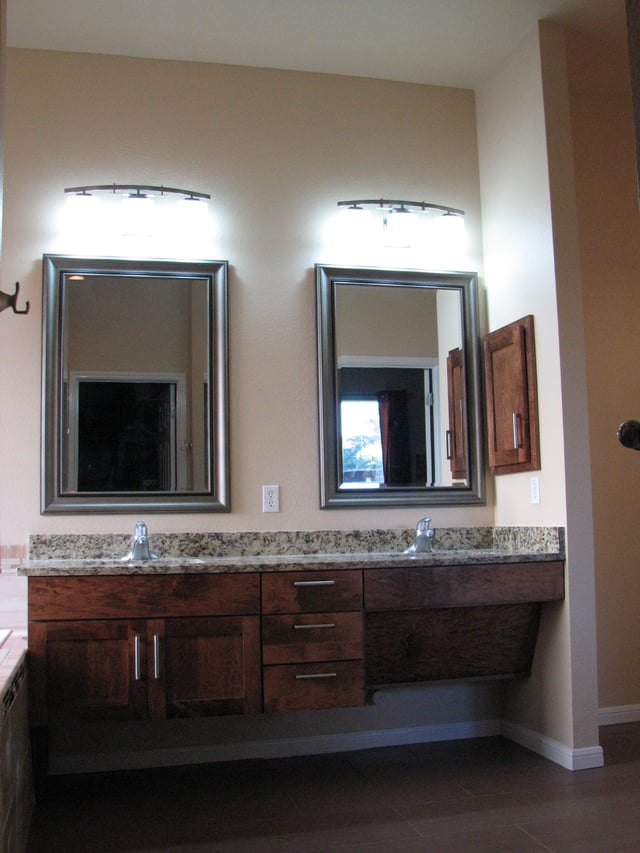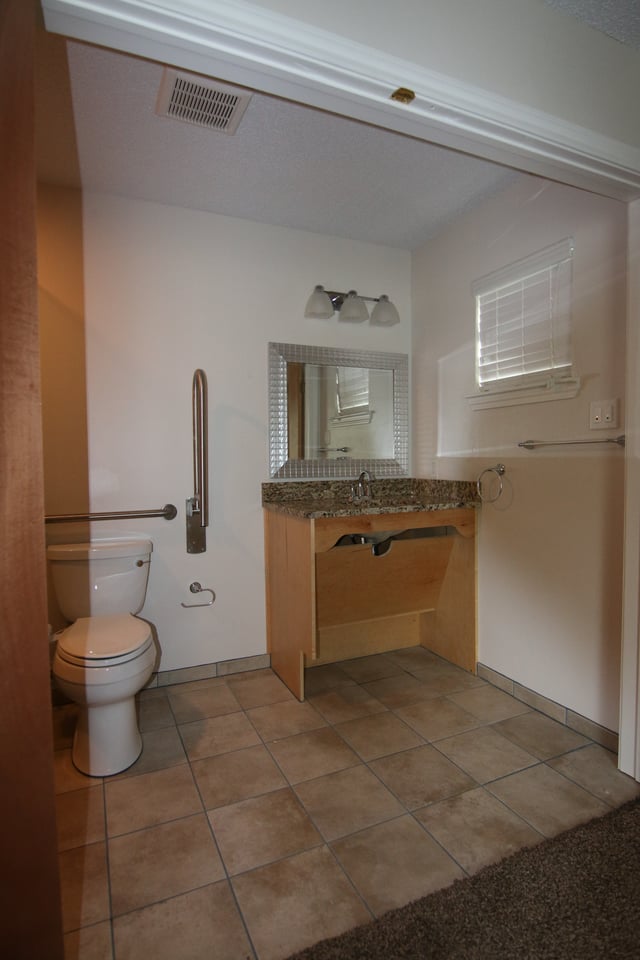 Custom Maple Cabinetry With Shaker Style Doors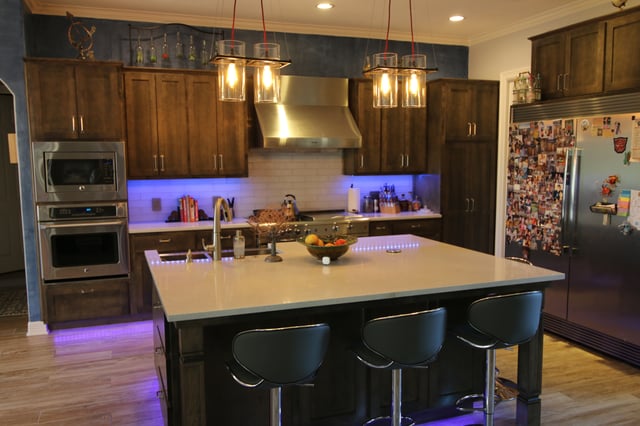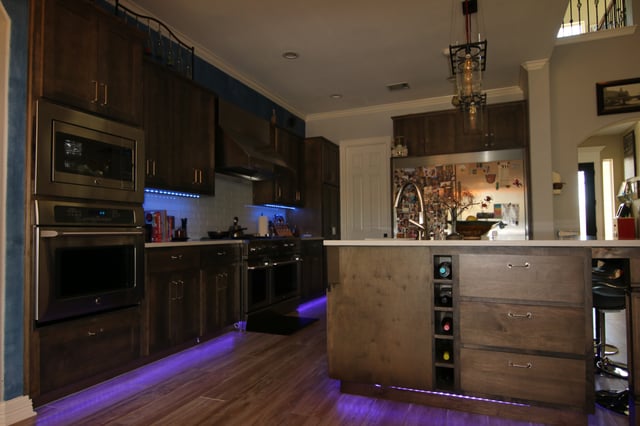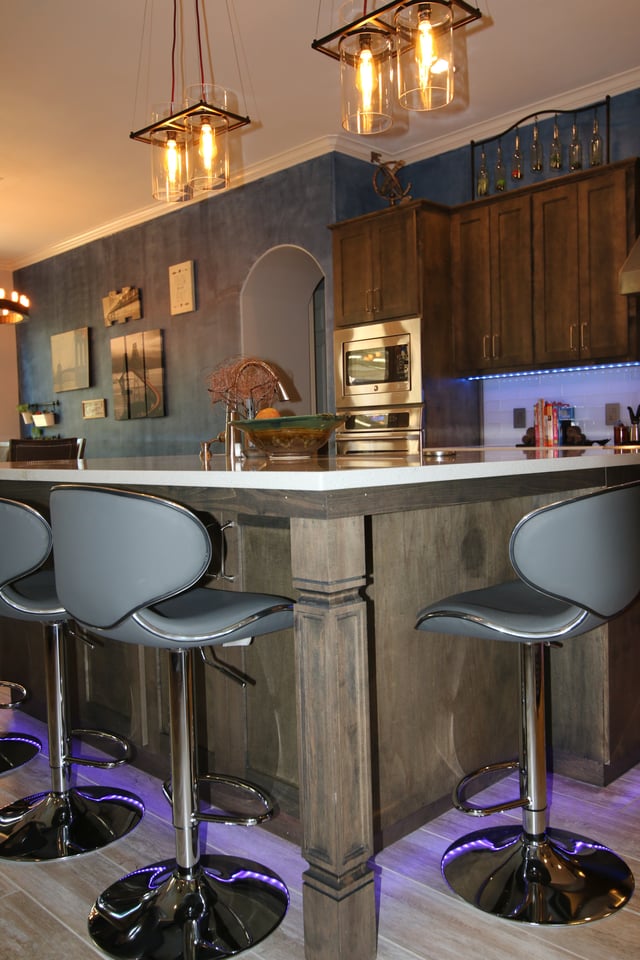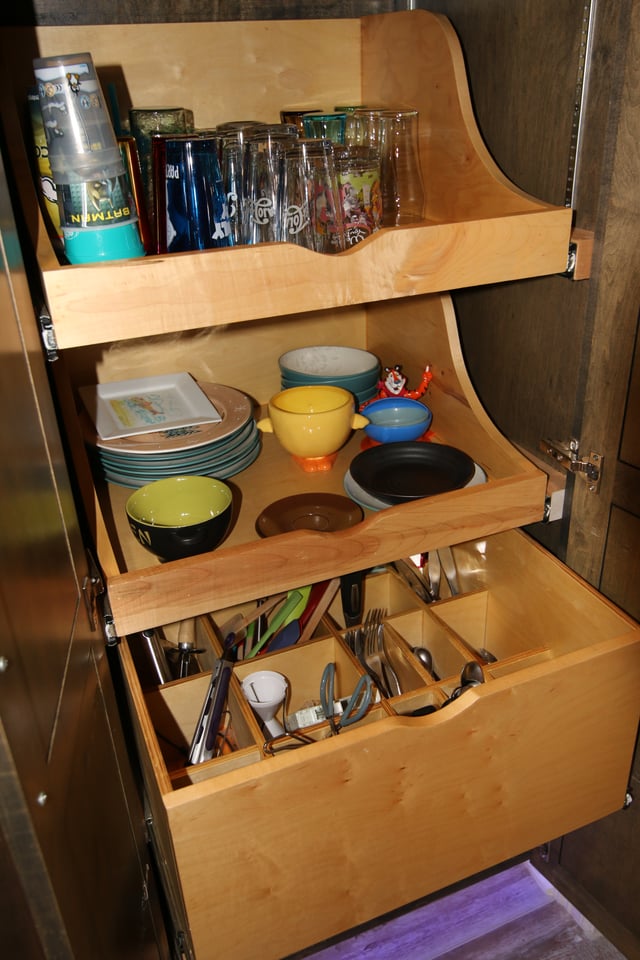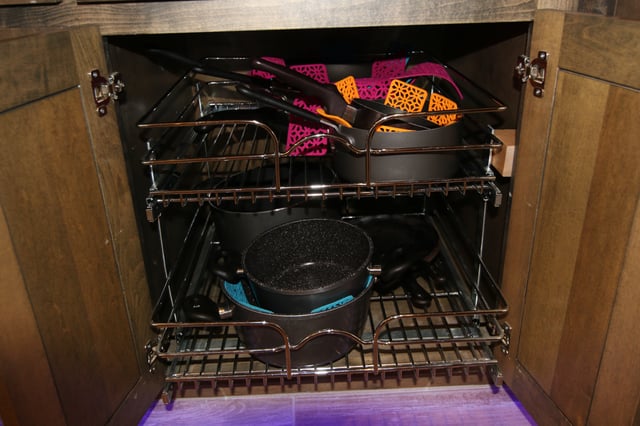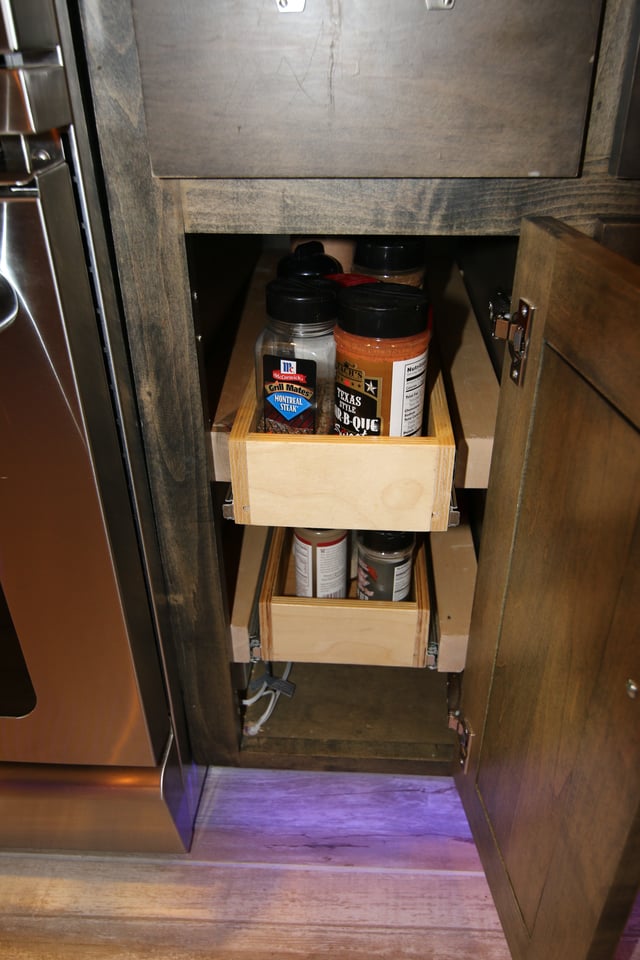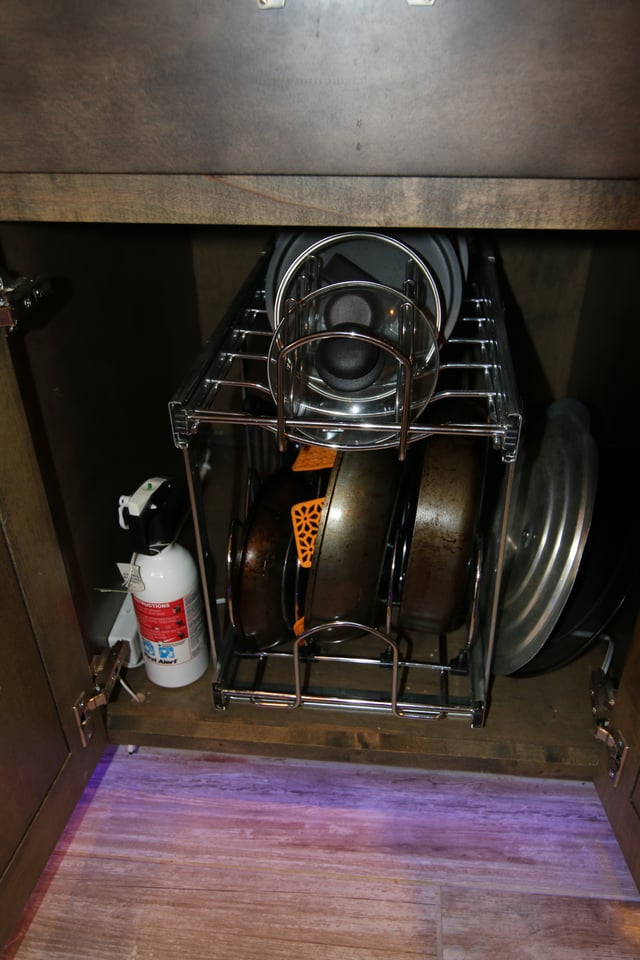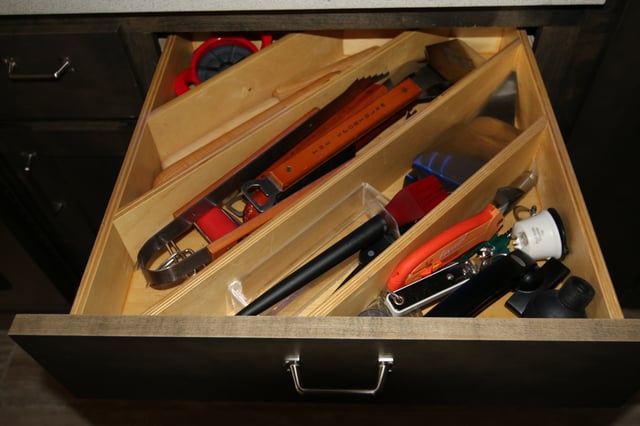 Wheelchair Accessible Kitchen Cabinetry