When mobility becomes an issue for any homeowner, regardless of age, the question arises concerning physically moving to a different home with a bath that is more accessible. Preparing for one of those highly likely events involving someone in your home needing room modifications for even a short time while recovering from surgery is surely a smart move. Solving aging in place issues will soon become the number one challenge concerning the present obsolete housing inventory in our country. Our present day obsolete homes now inhabited by the baby boomer generation will slowly and increasingly raise their outdated and obsolete ugly heads and expose their true lack of kitchen or bathroom accessibility to those very people inhabiting them. The situation will only become ever more expanding in time. When these homes were previously purchased, they represented an absolute castle in the world of their owners in which to prepare for a day and they also acted as a retreat from life's tough interactions. They housed our families, our memories, and our stuff. They represented a place where we could be ourselves. Our homes have always been exempt from any and all of the accessibility regulations that have been put in place since 1968 when our Viet Nam veterans were returning home. The new evolving concept known as Universal Design and specialized handicap remodeling contractors for home remodeling is catching on nation wide and has been for several years as a sign of the times. Universal design techniques used in building makes a home more accessible to all regardless of their mobility or adaptive abilities. An evolution of new products used for disability home modifications is making those homes more accessible and has finally come about in the remodeling industry. These new advances in accessible home remodeling in Austin not only keep the living environments safer but will not compromise the home's aesthetics. In fact, there are many benefits to using universal design techniques, including potential use by aging family members, added resale value, and the fact that you'll be creating a space that can be used by anyone who visits your home, regardless of their range of abilities. Simple universal design updates for aging in place home modifications and handicap bathroom accessibility can include adding grab bars or handrails throughout the home, adding a seat within the roll in shower, lowering upper cabinets and counter tops, adding non-slip flooring, widening hallways or installing stair lifts, and widening doors. You might also consider lowering light switches and thermostats and installing easier to use door knobs. You should try to provide a clear barrier free path or accessible route to the most visited areas of your home as recommended by the ADA.
Finding the right contractor with ADA knowledge and experience can be as much of a challenge as maintaining your independence throughout an accessible design in Austin. You should be looking for a contractor who understands life changes. A contractor who offers specialty products and services standing out from the rest of the pack. A contractor who has the ability, through experience, to help clear the murky water impeding your accessible route and how it can be accomplished. One who takes ADA remodeling to another level promoting safety. A well versed construction professional can take on and solve any residential ADA challenge creating an accessible design. These can include widening doorways, ADA compliant kitchen cabinets, or ADA compatible baths.
When increasing home accessibility, door widening is a common problem especially where wheelchair access is a must. All doors should be 36" wide with the correct locking hardware installed. The rule is 32" clear within the accessible route but 32" doors don't give enough clearance because of their stops. You also need to pay attention to which side the lockset is installed on to not limit any wheelchair access or operation of the door's locking hardware.
ADA compliant kitchen cabinets give you the ability to freely roll under the correct depth sink with covered or insulated water and drain lines. The sink should be equipped with a proper automatic or wrist handle faucet. A finished cabinet top height of 34" will also be observed. Wall cabinets should be mounted around 4" lower than usual for reachability from a sitting position. An unobstructed five feet turning radius on the floor should also be maintained.
Bathroom transformations complying with ADA revisions also require the same turning radius noted in the kitchen along with a correct bathing facility. If a tub is useful, correctly placed grab bars must be installed for safety reasons. Showers can be either the roll in or transfer type dictated by the individual user's physical abilities. The comfort height toilet should have grab bars installed at 34" on the side wall as well as at the rear at a minimum. The flush handle should be oriented toward the middle of the room away from the side wall. The bathroom sink should be accessible as in the kitchen mentioned above.
Home Accessibility In Austin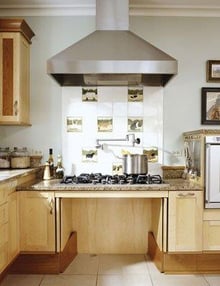 Traditional home builders and remodelers don't really consider the needs of the disabled or elderly like ADA vanities or roll in showers which are universal in nature. It takes a special breed of contractor to realize special needs for special people.
A revolution in building design standards is long overdue. Our current building design standards do not address the needs of more than one third of our existing population. Many more people can greatly benefit from accessible design versus conventional design. Our rapidly aging population is experiencing the limitations of our personal living environments. Any evolution in building practically always begins in the common areas of the commercial building sector. The American Disabilities Act of 1990 increased the attention needed for those people having the right to equally access their work place and any recreational or leisure facilities. These rules at least offer minimal solutions for those needing the most help with any building access. In Austin, we now must provide access to one bathroom on the first floor in new homes as deemed by our newly adopted building regulations. This basic right to a handicap accessible bathroom is finally being enforced by the city's building inspectors. What a tremendous needed and basic design improvement!
Aging in place construction and Austin ADA remodeling has become synonymous with handicap accessible home design and modification during our lifetime. Home modifications can be used to accommodate anyone from people with mobility impairments to those with vision loss, hearing loss, or even cognitive or developmental disabilities. Accessibility home modifications or wheelchair accessible kitchen and bathroom remodeling in Austin will allow anyone with limited mobility within your home to feel more empowered and independent. The extent of a customized accessibility design is dependent upon the activity level of the person requiring the modifications.
Aging in place home modifications are available through T-Square Company in the Austin area. We have an A plus rating with the local BBB and have over 30 years of remodeling experience. We are additionally a certified aging in place specialist offering complete aging in place services. Each design/build situation will be customized to fit your personal needs increasing your accessibility. Call 512-444-0097 today to begin the accessible second chapter of your life while remaining safe and secure in your existing home. CAPS #1636580