Problems encountered while accessing your home when you are wheelchair bound generally begin before or at the front door. If you can reach the front porch approach without obstruction then you have a great start since the stairs leading onto the front porch can be another matter all together. A correctly designed ramp having a 1:12 slope can adequately solve this problem. The use of grab bars and any railings will be dictated by the ramp's design and the regulations and physical limitations involved. Once your safely upon the porch, your home's front door width can become an issue. Any entry door less than three feet in width will cause a problem in maintaining a required 32 inch clear entry way which starts the new accessible route within your home. Rolling over any vertical threshold height greater than 1/2" is also difficult to maneuver. Once inside the structure a new set of problems concerning your accessibility will be discovered.
A traditional home builder has never truly considered the special needs of the disabled or aging within any home design. Unfortunately the design emphasis is always put on aesthetics and takes for granted everyone's mobility. There certainly are no guarantees or clauses within any home's sales contract that will prevent our future personal life experiences from introducing us to at least a temporary disability. Accidents will always happen and you could find yourself having to utilize a wheelchair or walker to facilitate your independence for mobility. Limitations in our mobility or constantly changing needs experienced by both the disabled and the elderly have sprung a new dimension in construction known as ADA remodeling to accomplish increased accessibility. Our homes have always been exempt from any and all of the accessibility regulations that have been put in place since 1968 when our Viet Nam veterans were returning home. The new evolving concept known as Universal Design for home remodeling is catching on nation wide and has been for several years as a sign of the times. Universal design techniques used in building makes a home more accessible to all regardless of their mobility or adaptive abilities. The realization that handicap bathrooms are needed by everyone regardless of age. An evolution of new products used for disability home modifications is making those homes more accessible and has finally come about in the remodeling industry. These new advances in accessible home remodeling in Austin not only keep the living environments safer but will not compromise the home's aesthetics.
An accessible bathroom for the user's convenience and safety becomes the first issue for anyone using a wheelchair or walker for either a short time while recovering or for the rest of their life. The disability access bathroom will be located within the home's accessible route. Any architectural barriers encountered while approaching the bathroom entrance will need to be removed. The minimum clear widths have to be observed. This will include the bathroom door itself. Twenty four to twenty eight inch wide doors are commonly used during the construction of American homes for accessing the bathroom. However, anything below three feet does not meet the 32 inch required clear width needed for clearance of a wheelchair. This work may involve framing alterations and moving light switches. The electrical changes should be done by a licensed electrician assuring your safety.
A completely serviceable special needs bathroom must contain at least one ADA vanity and the accessible route must be defined. The vanity must be one with a clear underneath scald protected area having an unobstructed roll under capability for wheelchairs. These new residential vanities do not need to look institutional. They can be designed like any other piece of fine furniture. A five foot turning radius allowing the wheelchair to maneuver into any approach must also be associated with the ADA vanity. A 36x48" clear approach area to the vanity must be observed and this can overlap the five foot turning radius. The area of travel will then be enhanced by an unobstructed clear accessible barrier free route dedicated to reaching the vanity.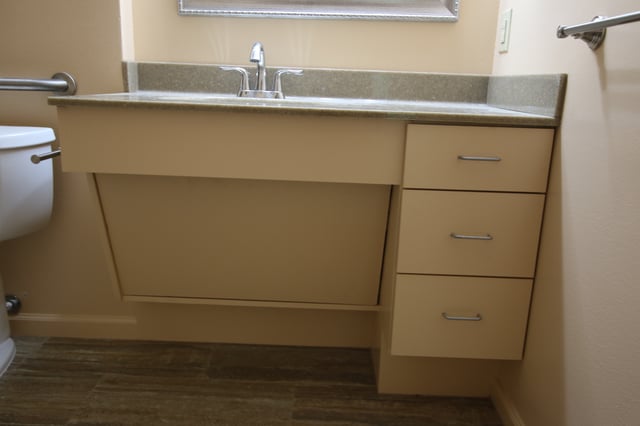 Bathroom cabinets in Austin vary by style and usability. There are basically two styles of ADA bathroom vanities that comply with an unobstructed 27" tall roll under area below the sink. ADA sinks with a rear drain location provide for better plumbing drain hook ups. This modification has everything to do with both the water supply lines and the waste line connecting the sink. There must be provisions made to protect the user from being scalded when coming into contact with any one of the plumbing pipes serving the sink. These connecting pipes may become heated merely by the water passing through them creating the problem. The open type model should always receive both waste and supply insulating jackets applied directly to the pipes providing protection for the wheelchair user. The closed model concealing the pipes will be equipped with a removable face or face board covering the pipes. This pipe concealing panel must be installed at the correct wheelchair user clearance angle. This allows for the needed unobstructed legroom required for the user. The vanity can extend beyond the sink but the area containing the sink is required to have this roll under capability. This section of the vanity top must not be any taller than 34 inches above the finished floor with sufficient lower leg clearance. Clear unobstructed reach distances around the counter top area must be observed. Any motion controlled sensors integrated into the various dispensing devices and/or plumbing fixtures throughout the restroom present a true hands free benefit to all the restroom users. If these aren't in the budget then at least wrist handles used for controlling the faucet can be incorporated into the design of the vanity. Furthermore, automatic flush valves should be used on all toilets and urinals that provide for hands free use.
Finding a contractor familiar with the guidelines of accessibility can be quite difficult. Be sure to check out the credentials of any potential bidders you contact. Be sure they understand that the alterations you are seeking are for wheel chair accessible home remodeling and modifications. Furthermore be sure this person knows and practices both the federal and most importantly your state's requirements before entering into any contract.
Aging in place home modifications are available through T-Square Company. We are a certified aging in place specialist. Each design/build situation will be customized to fit your personal needs. Call 512-444-0097 today to begin the accessible second chapter of your life while remaining safe and secure in your existing home. CAPS #1636580
Let's face it, accessible homes are needed by all of us at some time in our lives. This is true whether it's for ourselves, a family member, or a guest. The need is certainly not driven by age but is a result of life's experience. Any family living with disability among any of the generations within it's group can always benefit from additional accessibility. This will in turn increase safety and independence for all involved as they go through life.