Can you envision building a house as a young adult that you can live in comfortably while you age no matter what your basic physical needs require? This evolving home will contain wide doorways and hallways that can accommodate both a stroller and a wheelchair or walker. There will be a wide open feeling throughout the house's main living areas in the bathroom, kitchen, and living area that do not restrict moving about. There will be blocking behind the finished walls to accommodate secure grab bar installations or the towel racks in the kitchen can double as grab bars as you become unsteady from lack of balance. All the entryways from the front door to the shower entrance are smooth to prevent tripping from high thresholds. All doors and faucets will be controlled by lever hardware. This universal designed home is barrier free without looking modified and is accessible to everyone no matter of their age, size, or capability of movement. This home will be accessible to everyone from your father to your son.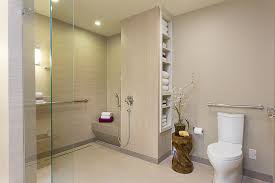 Universal design is the design of products and environments to be usable by all people, to the greatest extent possible, without the need for adaptation or specialized design. Some universal design/build ideas just make good sense. Once you bring them into your home, you'll wonder how you ever lived without them.
Universal Design isn't just for the elderly or the permanently disabled. As Americans age, they're beginning to realize that their homes need to accommodate future life changes. Consumers are more cognizant today of the benefits of a universally designed home, but they may not realize it can be beautiful as well as functional. Everyone can use universal design! It doesn't matter if you are young or old. You could be short or tall, healthy or ill. You might have a disability or you may be a star athlete. Because of universal design ideas, people who are very different can all enjoy the same home. And that home will be there for all its inhabitants even when their needs change.

Seven Low-cost Universal Design Elements
• Wider hallways and door openings (recommended widths are 46 inches and 36 inches, respectively)
• Kitchen work surfaces at different heights from 30" to 34"
• Lower light switches to 48" and higher electrical outlets at 18"
• Roll-under sinks with lever faucet controls with a 27" vertical clearance
• Open knee space under counter tops and islands that are at least 30" wide
• Lever door handles instead of knobs for arthritic clients
• Blocking for grab bars around showers and bathtubs
The aging in place phenomenon or movement is characterized by the needs and wants generated by an aging society of homeowners. People age differently because the aging process is based on their individual genetic makeup, lifestyle, and environment. These three factors combine to drive the need for Universal Design within the Aging In Place market. People's personal needs vary with age and the Universal Design of products, services, and environments provide adaptations for aging in place to everyone regardless of their age, ability, or situation. Universal Design becomes invisible when incorporated into a home remodel and is present when help with accessibility is needed. Furthermore, an appealing universal design project creates a greater resale potential. Aging in place construction provides immediate accessibility while universal design techniques provide for accessibility now and when needed in the future.

Knowledgeable construction and design professionals are utilizing their CAPS training across the nation. CAPS stands for Certified Aging In Place Specialist. This designation is taught through the National Association of Home Builders in collaboration with AARP. CAPS connects responsible professionals with home owners who need these services on an ever-increasing basis. CAPS is a nationwide initiative and all active CAPS members can be found at nahb.org/CAPSdirectory. Aging in place home design is a concept promoting independence and livability for all types of living environments no matter the age or level of abilities of the occupants. The principle is not entirely age related as recuperation periods from injuries or the progression of debilitating diseases like MS can happen to anyone at any age.
The National Association of Home Builders, in partnership with the AARP and Home Innovation Research Labs, created the CAPS program, which includes training and education on the technical, business management and customer service skills essential to compete in the fastest growing segment of the residential remodeling industry--home modifications for aging in place. David L. Traut, CAPS owner of T-Square Company in Austin, Texas is one of the select group of professionals nationwide to earn the Certified Aging-In-Place Specialist (CAPS) designation, identifying him as a home remodeler and builder with the skills and knowledge necessary to remodel or modify a home to meet the unique needs of the older population, disabled owners or their visitors.
For additional information about the CAPS program, visit nahb.org/CAPS. For more information about T-Square Company, visit www.tsquareco.com or call 512-444-0097.