The aging in place phenomenon or movement is characterized by the needs and wants generated by an aging society of homeowners. People age differently because the aging process is based on their individual genetic makeup, lifestyle, and environment. These three factors combine to drive the need for Universal Design within the Aging In Place market. People's personal needs vary with age and the Universal Design of products, services, and environments provide adaptations for aging in place to everyone regardless of their age, ability, or situation. Universal Design becomes invisible when incorporated into a home remodel and is present when help with accessibility is needed. Furthermore, an appealing universal design project creates a greater resale potential. Aging in place construction provides immediate accessibility while universal design techniques provide for accessibility now and when needed in the future. We know that 36% of the nation's housing stock owned by people at age 50 and over was built before 1960. This group represents the most appreciated value in the housing market which may become a separate problem within itself. These homes will have to be adapted the most for the inhabitants requiring aging in place services since they preceded the idea of Universal Design and also involve more general maintenance.
Aging in place is all about living independently for as long as possible within your existing home, neighborhood, and community. It is also about being safe and healthy within your home which has had architectural barriers or dangerous areas removed using proven practical home modifications. Trained and certified CAPS professionals are working throughout the residential remodeling industry demonstrating how you can age in place with the greatest freedom of movement and maneuverability. Aging in place home design is a concept promoting independence and livability for all types of living environments no matter the age or level of abilities of the occupants. The principle is not entirely age related as recuperation periods from injuries or the progression of debilitating diseases like MS or ALS can happen to anyone at any age.
ADA Kitchen Cabinets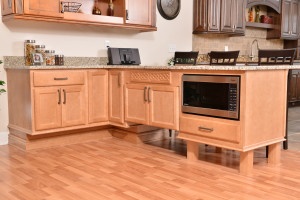 Home modifications for aging in place should include adding non-slip flooring, widening hallways or installing stair lifts, and widening doors. You might also consider lowering light switches and thermostats and installing easier to use door knobs. Many considerations for an aging in place design should be taken into account to provide safety and independence. You should try to provide a clear barrier free path or accessible route to the most visited areas of your home as recommended by the ADA. The three areas needing improvement for a person wanting to age in place include the bathroom, the kitchen, and the family area in order of importance. The alterations in these specific areas are essential for the accessible homes of Austin.
People who are interested in aging in place services and aging in place home improvements are now looking for a level entry into their home along with the maneuverability that a more open floor plan having greater clear unobstructed floor space presents. They desire flat floors without transitions requiring steps or stairs to move around. Ramps having a correct 1:12 slope can be used to get them up to the level floor space at the exterior entries or the garage access. ADA compliant kitchen cabinets and ADA bathroom cabinets will more than likely come into play to complete any accessible home remodeling project.
ADA Bathroom Cabinets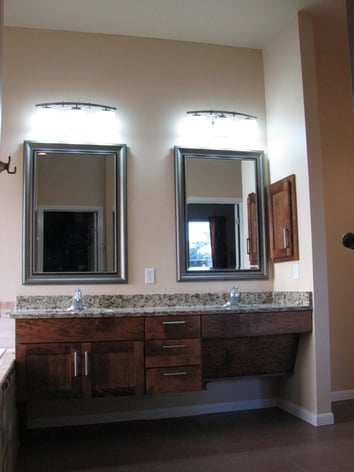 There are really three categories of aging in place customers. Those who are simply and wisely planning ahead for their futures to remain in their present homes. The second category concerns those people who know they have a chronic medical disorder and need to prepare in advance for accessibility issues which will come as a result of their disease. People with diseases that are constantly causing increased physical or mental changes to their being are a good representative of this second group. The third group involves those people who either have had a chronic problem that has progressed severely altering their mobility or those who have sustained a life altering tragedy such as being involved in an accident. All of these groups will drive the future metamorphosis of existing inaccessible dwellings.
The goal of an accessible bathroom design in Austin is to make the bathroom a safe space for everyone who uses the facilities. Aging in place services use universal design to accommodate wheelchair use and can make the bathroom more comfortable for all generations with or without specific needs. It is important to carefully outline the scope of work during the remodeling of an accessible bathroom by first taking inventory of the users capabilities, needs, and preferences. All disability home remodeling or disability bath remodels in Austin must be done considering all the data provided by the client, his or her family, and any caretakers involved. Aging in place design must be carried out by an aging in place specialist.
The National Association of Home Builders, in partnership with the AARP and Home Innovation Research Labs, created the CAPS program, which includes training and education on the technical, business management and customer service skills essential to compete in the fastest growing segment of the residential remodeling industry--home modifications for aging in place. David L. Traut, CAPS owner of T-Square Company in Austin, Texas is one of the select group of professionals nationwide to earn the Certified Aging-In-Place Specialist (CAPS) designation, identifying him as a home remodeler and builder with the skills and knowledge necessary to remodel or modify a home to meet the unique needs of the older population, disabled owners or their visitors.
For additional information about the CAPS program, visit nahb.org/CAPS. For more information about T-Square Company, visit www.tsquareco.com or call 512-444-0097.