Like in the garage of the home, the laundry is often overlooked when planning a Universal Design setting to Age in Place. The washer and dryer are separate units arranged side by side. If stacking, the upper drying unit is not accessible for a seated user. They are front loading machines not top loading models. This arrangement allows the user to look directly into either machine while accomplishing their duties. One problem concerning these appliances is like that of the dishwasher. If they are sitting directly on the floor, a seated person does not have a direct line of sight inside to see the garments. To solve this problem, just like the dishwasher, the machines are raised placing them upon a platform or pedestal. Many manufacturers offer matching pedestals around twelve inches tall. The advantage of using the matching pedestals is they often include a drawer unit for storing items.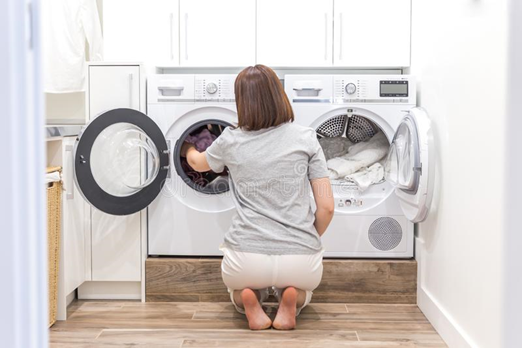 When configuring the Universal Design laundry room, provide a clear five foot turning radius directly in front of the washer and dryer for approaching both machines. If the laundry room is large enough, a 30 x 48 inch approach area is associated with the machines as with all appliances. This configuration is also used if the machines are in a closet. A useful detail for either situation is to have machines provided with opposite swing doors both opening from the middle. This way a person is between the machines with access to both for sorting clothes at the same time. Otherwise one machine door becomes an architectural barrier for anyone in a wheelchair.
A larger laundry room has both natural and layered lighting. A window is so important in the heat gaining laundry for additional ventilation during certain times of the year and providing natural light for working. Along with an AC duct, install a vented exhaust fan in the laundry decreasing humidity as it becomes a problem. As with any Aging in Place designs, well-lit rooms are much easier to work in for everyone. Additional task lighting is installed wherever needed like underneath wall cabinets.
To gain entrance to the laundry room, a minimum 36" door coming off the accessible route is required. A five foot clear turning radius in the middle of the room offers clear approaches to the sink, machines, ironing and hanging facilities. Pocket or barn doors are a great choice for a laundry entrance requiring no planning for their swing or the space needed when they are opened. Laundry activities are loud at times so plan for deadening them with the door choice. The laundry room needs ample room in order to approach and maneuver. Accessible and adequate storage is a major consideration. Just like in the kitchen, a laundry sink has roll under capability for a wheelchair user. The sink has an associated 30 x 48 inch clear area in front for approach in the layout. The faucet is an easily operated accessible pull out model and the cabinet top is installed at a universal 34 inch height. Here again, multiple height cabinet tops work well in different areas of the room. Additional cabinets and adjustable shelving are placed as space permits using universal heights and reach distances. A fold down clothes folding shelf is great as needed with roll under capability. When not in use it is folded away against the wall gaining back the original floor space.
Racks and shelving are installed for hanging and sorting clothes. Keep in mind the 48 inch reach limit for a seated person. Ironing clothes is a usual chore with the laundry but ironing boards are always in the way no matter where they are assembled. To solve this problem, install an adjustable fold up model which is also rolled under. When not in use the ironing board is stored in the accompanying wall cabinet regaining the floor space. These ironing board units are available with a separate electrical outlet inside for the iron preventing running extension cords creating trip hazards. There are also folding ironing board drawer units which are installed in a base cabinet or below a work top. The drawback with these units is the lack of flexibility since they are installed at a fixed location and height.