Look at the different types of housing represented throughout Austin and the surrounding areas. Smaller homes, cottages, sprawling historical townhomes surrounded by architecturally pleasing fences, rustic ranch homes, "Macmansions", and sleek high rise condominiums are just a few examples of the structures that define Austin's diverse housing landscape. Economic situations along with personal preference formulates where we choose to live in a town with such diversity. Most people remember how the old style bathtub/shower combination was a standard part of any bathroom design. Some residential showering areas were enclosed using the multicolored vinyl shower curtain option while others had bypassing or sliding shower doors on tracks. The doors were framed with either chrome or gold colored aluminum matching the sliding tracks. Modern bathroom designs have become much more sophisticated because the many available bathroom products are easier to be discovered by the homeowner. There are millions of pictures representing fine bathroom upgrades or bathroom remodeling all across the internet.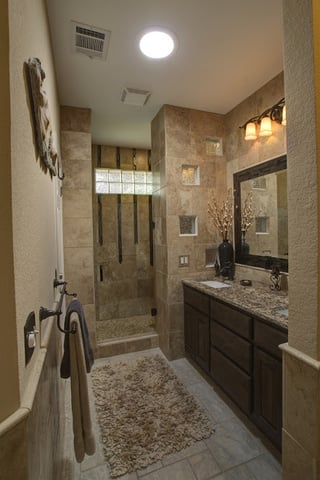 When you go about rearranging your current bathroom, keep in mind that moving plumbing, especially drains, is one of the more expensive aspects of a fine bathroom makeover involving floor demolition. If you can limit and control the costs involved with this issue you will have more money to spend on the things that show off your endeavors. Changing water supply line locations not relying on gravity is easier than moving drains especially when they go into the main drainage system that resides underneath the finished floor.
If you're current situation is cramped but you already have a double vanity, you might gain space for a new shower expansion by either shortening the vanity while keeping the two sinks or by going with one single sink located in the middle of a shorter vanity. This can be accomplished by capping off one sink drain completely and/or deleting the water supply stops. If your toilet is located between the vanity and tub then shortening the vanity is all for naught. You can move the toilet over but this means breaking out the floor to change the toilet plumbing floor flange plus the water supply. Be careful as this alteration can be costly and should only be done to allow certain specific situations to evolve.
In general, bathroom sizes are usually dictated in some respect by the length of the tub which in most cases is five to six feet long. This is evidenced by a tub that has been installed opposite the entry wall to the bath producing a wall to wall tub situation. In this configuration the toilet and vanity are generally placed on one of the walls that are perpendicular to the length of the tub. Here is a great starting point to gain space for a larger custom walk in shower to replace the tub you never use. But if you are fortunate to have both wall lengths exceed the five or six feet norm then space is not an issue and you can proceed with ease. Just choose your finishes wisely and keep all choices within your budget.
Certainly there are many upgrades available when planning a bathroom transformation. The replacement of the tub with a new walk in shower can create a bold look but will run you around $12,000. There are no spending limits for bathroom remodels. You can plan on spending around $12,000 to $15,000 for a hall bath remodel. The price tag can approach or exceed $35,000 for a complete master suite remodel. The type of fixtures and building components chosen along with the labor will compose the overall cost of the remodeling project.
Fine cabinetry is a must for any bathroom makeover. As for the vanity, an upgraded cabinet top like quartz installed at the correct height for you is a personal must for function. Do you require a single or double sink configuration? Under mount or drop in sinks? The vanity should have adequately accessible storage satisfying your needs. Incorporating easy operating and properly sized drawers and pull out shelves within the design can be very beneficial. Linen, medicine, and "over the potty" wall cabinets need to be well thought out. The correct species of wood used for the construction of your fine cabinetry and the style of you cabinet doors are two very important factors to consider. Remember, you do have a choice and you are going to be looking at these new cabinets for a while.
Bathroom plumbing fixture choices are numerous to say the least. Always select reputable companies offering the best warranties especially when considering finishes for the faucets or fixtures installed in the project. Larger walk in shower designs should have seamless fiberglass liners or state of the art shower bases to avoid leaks if the house ever shifts. Toilets today come in array of choices. Don't just consider the shape of the new toilet but the height which is also important for universal design. Soft closing or night lit toilet seats are also an option.
Colors for bathrooms today are natural and earthy creating a calming effect. Accents of color reflected from the tiles, paint, fixtures, and woodwork are used to make things a little more interesting compared to a room's overall vanilla tones within your design. Help is just a phone call away but be sure the one who answers has the qualified experience you need for completing your new bathroom transformation. If you're uncertain about how to proceed with any bathroom remodeling project always rely on a local and trusted building professional. Sometimes spending a little more money for experienced help with design and construction techniques can save you a lot during the construction process.
The National Association of Home Builders, in partnership with the AARP and Home Innovation Research Labs, created the CAPS program, which includes training and education on the technical, business management and customer service skills essential to compete in the fastest growing segment of the residential remodeling industry--home modifications for aging in place. David L. Traut, CAPS the owner of T-Square Company in Austin, Texas is one of the select group of professionals nationwide to earn the Certified Aging-In-Place Specialist (CAPS) designation, identifying him as a home remodeler and builder with the skills and knowledge necessary to remodel or modify a home to meet the unique needs of the older population, disabled owners or their visitors. Call us at 512-444-0097 to see how we can help you design your bath for the future using Universal Design techniques. We specialize in all bathroom remodels as well as any handicap accessible bathroom remodel.
Young Austin homeowners are always looking for ways to bring their existing older home's bathrooms up to date. Bathroom remodels for these smaller baths can incorporate a number of the items listed above in moderation to fit any budget. Using beautiful ceramic tiles in an interesting design, updating plumbing fixtures, and the use of neutral colors can create a small bathroom with a "wow" factor. It is quite possible to produce a small but charmingly remodeled bath on a budget. A project that is affordable plus the fact that it will add resale value to your home cannot be denied. Check out all the options before committing to a plan and then stick to it. Always hire a local and professional builder. Remember that producing change orders because no one thought of "that" can be expensive. Create the style for your bathroom remodel that best gives you a feeling of pride!