No matter how old you are you should periodically evaluate your residence to determine whether it suits you not just for the present but the future. Your home assessments will be rethought every time your living situation changes. Whether childproofing for a newborn, making a home more accessible following a sickness or unfortunate accident to someone in the family, or making a toilet area safer for an aging residing parent, there will be an immediate evolution to your primary domicile. These same life span design features are even more important if you believe you're past the age of wanting to move and are relishing the thought of aging in your own home, no matter what physical limitations you might later develop. Incorporating smart aging design concepts into a home will attract a larger group of buyers when you decide to finally sell your home.
Universal Design does not equate to accessibility design even though they both are concerned with ergonomics and human function issues. The ADA guidelines for accessibility were created as a means to help those people with extreme disabilities within our society who are a narrow and specific cross section of the masses. A UD approach broadly takes into account moderate impairments or disabilities, temporary health conditions, and the varying abilities of anyone within a home regardless of their age or size. In other words, an ADA accessible home would be designed for the one person with the disability whereas a Universal Design home is designed for everyone for better home access.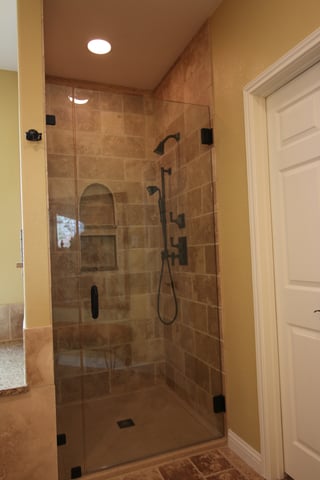 This adequately sized universal design shower above has wood blocking in the walls for a future folding seat and grab bars to be installed at the appropriate time. The low threshold shower entrance accommodates all users. The shower controls are within a 48 inch height off the finished floors and graspable by all. The dual shower heads are definitely user specific. The shower entrance door has a 32 inch clearance when fully open. There is adequate spacial lighting for showering. The floors both in the shower and connecting bath floor have an adequate nonskid surface rating.
There are seven criteria which must be met to be considered a universal design no matter which area of the home you are referring to. Any design must be equally useful to everyone, have flexibility in it's usefulness, be simple and intuitive, be perceived by everyone, have a tolerance for error, require little physical effort, and it must maintain an adequate area for approach and use. Any complexity or discriminating attribute to a design will doom it in terms of being considered universal in nature.
Disability is a complex phenomenon representing an interaction between one's physical impairments, the activities they need to perform, and the architectural barriers within the space in which this situation occurs. The terminology and jargon used for disabilities evolves regularly whereas, "handicapped" is no longer acceptable. It is no longer merely a description of intellectual or physical impairments. Each individual with similar impairments describes his or her limitations differently. The blind don't experience their world the same as a person with deafness and so on. Physically challenged has become the more socially accepted description of a person with an impairment.
Elder construction takes into account both visual and cognitive disabilities present a whole new set of problems concerning safety. Visual impairment can be aided by creating an environment with many contrasts. Something so simple as applying a contrasting color on the baseboards or varying the type of floor covering throughout the home can aid in room recognition. Cognitive limitations really deal with safety and limiting a person from being exposed to hurting themselves.
Accessibility designs addressing specific physical conditions will lessen the impact of say arthritis, restricted mobility, or loss of vision by using combinations of products, concepts, and techniques available today. Working as a team, a trained CAPS specialist along with any family caretakers or therapists is able to identify the day to day problems weighing on those with health limitations. If you are considering an aging in place remodel for your home don't just contact any local remodeler in your area and expect a satisfactory accessible home modification. A professional design/build accessibility project can only be created for your specific needs by a qualified home remodeler having a nationally accepted CAPS (Certified Aging In Place Specialist) certification. This credential is backed by the NAHB. Only a CAPS home remodeler possesses the specific knowledge that will insure a successful outcome for your accessibility or aging in place project and what's more, keep you in your home longer.
Aging in place design, construction, and remodeling has become synonymous with handicap accessible home design and modification during our lifetime. Home modifications can be used to accommodate anyone from people with mobility impairments to those with vision loss, hearing loss, or even cognitive or developmental disabilities. Accessibility home modifications or wheelchair accessible kitchen and bathroom remodeling in Austin will allow anyone with limited mobility within your home to feel more empowered and independent. The extent of a customized accessibility design is dependent upon the activity level of the person requiring the modifications.
The National Association of Home Builders, in partnership with the AARP and Home Innovation Research Labs, created the CAPS program, which includes training and education on the technical, business management and customer service skills essential to compete in the fastest growing segment of the residential remodeling industry--home modifications for aging in place. David L. Traut, CAPS owner of T-Square Company in Austin, Texas is one of the select group of professionals nationwide to earn the Certified Aging-In-Place Specialist (CAPS) designation, identifying him as a home remodeler and builder with the skills, training, and knowledge necessary to design and remodel or modify a home to meet the unique needs of the older population, disabled owners, or their visitors.
The three main rooms involved in aging in place home modifications are the bathroom, the kitchen, and the family room in that order. These areas make up the most occupied spaces of any home and will be connected by a designated accessible route. Here we will need access through wider doorways, non slip floor surfaces, and adequate cabinet and plumbing fixture accessibility. What is more important is that we must observe safety for everyone as the baby boomers choose to age in place within their homes. Just remember one thing and dispel any myth that aging in place construction and remodeling must appear institutional or out of the ordinary. When the work is done with style and taste it will only compliment the home.