If you believe you are located at the perfect address, and you have a new member in your family or are simply a multi-generational family of today taking care of a parent and you find yourself short on living space then give us a call. Inevitably at one time or another all homeowners envision potential improvements to an existing home that can significantly enhance their living experience. Regardless of the reason you require home remodeling or an addition we can help you to transform the functionality of your existing living situation or add additional living space to suit your present family's needs. Fall in love with your home again while the professional remodeling contractor's experience helps guide you through changes to your existing home which better fit your daily lifestyle.
Austin Home Remodeling Contractors/Home Additions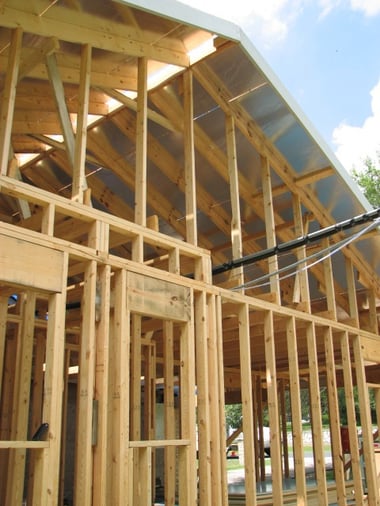 The Finished Product From Above Picture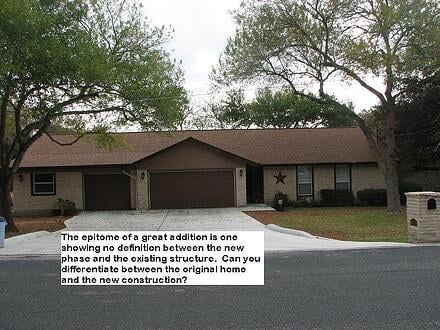 It's time to find yourself either a qualified architectural firm and proceed with the endless task of interviewing residential remodeling contractor or a local design/build construction company with in house design capabilities that can build what is designed. The latter situation is usually your best shot at getting what you basically need to solve your living situation problems allowing you to cut out the beyond budget frills. You will also save on the soft costs of your construction project that have nothing to do with the structural building process itself. Many local residential contractors are quite capable of pushing out a wall in your home or putting a top on a new structure. This capability is based on both their experience and knowledge of all the building trades, especially the framing aspect that will certainly be involved. Actual experience in this particular facet of the project could prove to be very helpful for visualizing the construction and it's possibilities. Has this contractor ever done this kind of project before? Does he himself have skilled experience or does he appear to be a drive by limited contractor at the mercy of his subcontractor's capabilities? Any depth of design is totally based on experience. You will need to completely check out the contractor's references. Don't be taken in by paid contractor listings and referral sights that promise you successful and competent businesses with free background checks. They were listed there for one and only one reason, somebody paid for the listing fee. Membership to national associations like NARI reflect only a self paid fee but says nothing about the contractor's experience and creativity. That only comes from past customer's testimonials that you can fact check through the local BBB, Yelp, or Houzz.
T-Square Company originally came into being as a remodeling company driven with the purpose to maximize the potential of existing homes. When updating elements of functionality, style, efficiency, accessibility, and comfort, a home can be brought into your present day needs and desires of it's occupants. We approach complete home remodeling, renovations, and additions with the same targeted mindset using universal design techniques to build for the future. With our CAPS training, we are able to offer accessible home designs and modifications for our clients with special needs or disabilities.
If you have contemplated and dreamed of an addition to your home for years and now find it's time to make a decision to move forward let us help you. Certain changes in your lifestyle may have dictated an expansion. Your living space has grown more crowded over time with additional family members being added as children, extended family members, or an elderly family member. Any and all of these life changing situations can add stress to your daily lifestyle creating the need for additional living space or home improvements in Austin. As our children grow older they generally require more space and sometimes privacy. This sparks a need for an additional bedroom space once an aging relative or spouse requiring special care is introduced into the original home's square footage. Privacy can truly become an issue if only to keep everyone happy while underneath the same roof. Perhaps even private entrances will be required for some of the home's new residents. These private entries could be required to begin a new accessible route if there are ADA compatibility issues involved.
T-Square Company is a local design/build General Contracting firm registered with the City of Austin, Texas. We have a competent team of in house craftsmen for your structural job aspects. They are complemented by a force of long time affiliated subcontractors holding a masters license with the State of Texas. We are certified accessibility experts holding nationally accredited CAPS and Universal Design (UD) certificates to assist in removing any architectural barriers limiting mobility within your home. We offer complete home modifications for independent living for our aging in place customers in Austin. Let us show you how to adapt your home to fit your ever changing accessibility needs. Perhaps an expansion to a defined living space would solve a changing living situation. How can this be accomplished without altering your home's basic footprint? How can you go about this without a costly addition? Maybe it's time to look under the hood, so to speak, for a solution that is right under your existing homes roof line.
How about pushing a certain room's perimeter out into your existing unused attic space to create attic remodeling? You can expand a small child's bedroom space to create a play or activity room. Storage needs can be met by taking in part of the attic to create a closet or other additional storage area. Entertainment areas can be created without taking square footage out of the living space once the equipment is installed beyond the existing inner wall line into the attic space.
How you accomplish adding this additional square footage can be quite easy if you obtain the advice of a qualified building professional. Any reputable residential building contractor can give you direction for such a task so that your roof's structural integrity is not put in jeopardy. You must not under any circumstance interrupt the structural balance of your roof. Not only could you cause a structural failure of the roof itself but other areas of your home could be affected by this interruption in stability.
Whatever your situation please rely on the experiences of a local building professional. Check out their credentials and references over merely price checks against other bidders. Don't make the mistake of letting a cabinet making subcontractor play the part of a general contractor because his knowledge will be limited to that of the cabinets and not much else. You get what you pay for with proper planning. Call T-Square Company today at 512-444-0097 for a complete design/build experience for the home remodel or addition you've longed for.