In general, smaller bathroom sizes are dictated in some respect by the length of the tub which in most cases is five to six feet long. This is evidenced by a tub that has been installed opposite or adjacent to the entry to the bath producing a wall to wall tub situation. In this configuration the toilet and vanity are generally placed on one of the walls that are perpendicular to the length of the tub. Here is a great starting point to gain space for a larger custom walk in shower to replace the tub you never use. If you are fortunate enough to have wall lengths exceeding the five or six feet norm then space is not an issue and you can proceed with ease. Just choose your finishes wisely and keep all choices within your budget.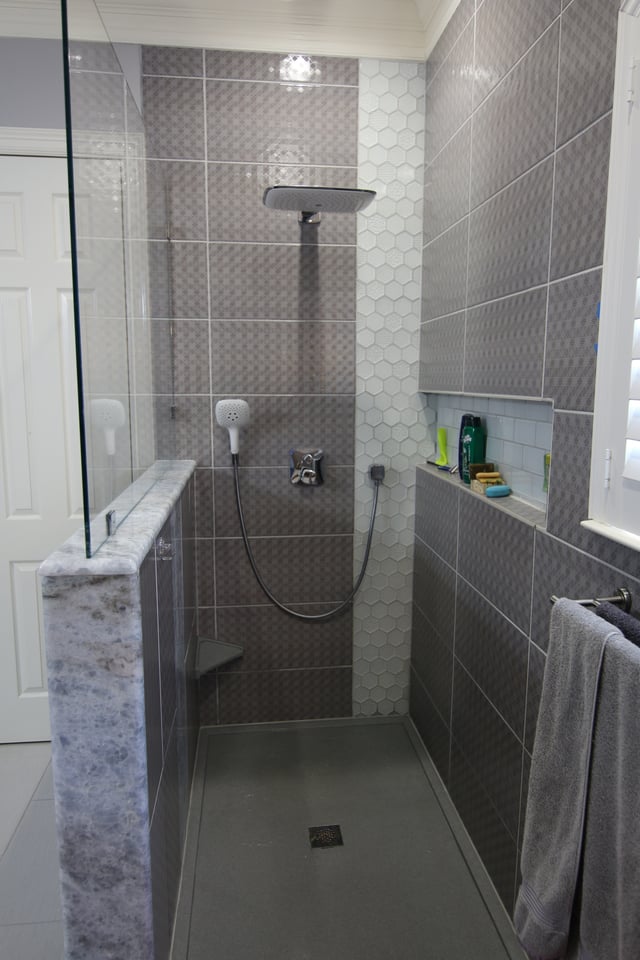 Young Austin homeowners are always looking for ways to bring their existing older home's bathrooms up to date. Bathroom remodels for these smaller baths can incorporate a number of the items in moderation to fit any budget. Using beautiful ceramic, porcelain, and stone tiles in an interesting design, updating plumbing fixtures, and the use of neutral colors can create a small bathroom with a "wow" factor. It is quite possible to produce a small but charming remodeled bath on a budget. A project that is affordable plus the fact that it will add resale value to your home cannot be denied. Check out all the options before committing to a plan and then stick to it. Always hire a local and professional builder. Remember that producing change orders because no one thought of "that" can get very expensive causing project cost over runs.
If you are lucky enough to have a larger bathroom space to deal with there will be increased costs due directly to the larger area to finish -as in more tiles for a bigger area and the labor to install them. Your costs may go down per square foot but you are certainly dealing with more square footage and the associated increased costs. You need to consider that plumbers, electricians, tile setters, framers, drywall workers, carpenters, and insulation installers, just to name a few trades, will be involved in your bathroom remodel. Now how about the demolition that will be involved before the actual construction begins? Sometimes the preparations behind the walls or floors can take longer than building the new bathroom remodel itself. Perhaps there isn't enough water volume to supply your chosen bathroom shower fixtures requiring a larger supply line to be considered as an over run or there just isn't sufficient fall for a gravity drain to work naturally to the sewer yard line that necessitates installing a lift pump system. What are the new electrical requirements and layout and do these require dedicated, GFI, or arc fault circuits and outlets and will the existing electrical panel handle the additional circuit breakers or is a sub-panel needed? Keep in mind that moving plumbing, especially drains, is one of the more expensive aspects of a fine bathroom makeover involving floor demolition. If you can limit and control the costs involved with this issue you will have more money to spend on the things that show off your endeavors. Changing water supply line locations is not as difficult as moving drains especially when they go into the main drainage system that resides underneath the finished floor.
Certainly there are many upgrades available when planning a bathroom transformation. The replacement of the tub with a new walk in shower can create a bold look but will run you around $10,000. There are no spending limits for bathroom remodels. You can plan on spending around $12,000 to $15,000 for a hall bath remodel. The price tag can approach or exceed $35,000 for a complete master suite remodel. The type of fixtures and building components chosen along with the labor will compose the overall cost of the remodeling project.
Universal design and aging in place services in Austin have finally taken hold in the residential remodeling industry. The current housing inventory doesn't offer the features needed for safety and accessibility in the numbers needed to accommodate the growing demand. It is ultimately up to the homeowners and their families to plan for future housing needs. Our existing architecture does not lend itself well to accomplishing any easy aging in place home remodels in Austin. In fact, there are more inaccessible homes in all of the US than there are accessible homes and 45% of these existing homes are owned by the baby boomers representing the oldest group of homeowners. Generally speaking in most residential US properties there are no easy ways to enter into bathrooms or utilize kitchens without coming into contact with one architectural barrier or another-especially if a wheelchair or walker is being used to help with mobility issues. Everything requires the proper clearance and distance for a new customized accessible route in your home to function properly. Please consider this aspect in your design if an elderly parent will be coming to visit or you yourself suffer an unfortunate accident or develop a debilitating disease.
Fine cabinetry is a must for any bathroom makeover. As for the vanity, you can work your way down from the upgraded cabinet top that has been installed at the correct height for you. The vanity should have adequately accessible storage satisfying your needs. Incorporating easy operating and properly sized drawers and pull out shelves within the design can be very beneficial. Linnen, medicine, and "over the potty" wall bathroom cabinets need to be well thought out. The correct species of wood used for the construction of your fine cabinetry and the style of you cabinet doors are two very important factors to consider. Remember, you do have a choice and you are going to be looking at these new cabinets for a while.
Proper lighting is always an important aspect to be installed during a bathroom remodel. It can be broken down by task. Recessed cylindrical can lighting is used today to provide the overall luminescence for the room. Trims with lenses can be installed above baths and showers by code to brighten darker areas. Light strips or single wall fixtures mounted near head height will not only light the face directly but light bouncing off the mirror will additionally enhance the working area. Lighting can be designed around a new framed beveled mirror that you have chosen or the new LED mirrors are great at bouncing light to the face. Cove lighting is always a great choice because it is indirect and can cascade down on any area like the shower or over the bath tub area. Floating vanities can appear to make the room look larger when they are lit at the toe kick using LED strip lights. The choice of bulbs utilized in some of your fixtures is yours for now. Try using dimmers to control your new lighting creating mood.
Ventilation is so important when planning a bathroom upgrade because of the humidity involved. Too many times a single exhaust fan is installed above the toilet, or what is much worse, in the center of the room. Heat and humidity naturally rise and will overtake the entire room if given a chance. Today's quiet bathroom exhaust fans should be sized according to the room's air volume. Larger units should be located next to any bathing or showering facility and additionally a smaller smaller fan above the toilet. Conditioned air along with an adequately sized duct supplied from your central unit will further accentuate a pleasant feeling within the new bath with decreased humidity.
Plumbing fixture choices for bathroom remodeling are numerous to say the least. Select reputable companies offering the best warranties especially when considering finishes used on control valve trims and the fixtures installed in the project. Larger custom walk in shower designs should have either seamless fiberglass liners or molded one piece shower bases to avoid leaks in case the house ever shifts. Mixing in components like natural stone, glass tiles, and even glass blocks will certainly upgrade your new bathroom. As for the new walk in shower design, you can plan for an open wet area space to not require a door for splash protection using a glass pane splash protector yo separate the shower from the rest of the bath space or you can take the route of a clean looking frameless glass shower enclosure across the entrance. This will surely set you back at least $1,200. The end result will be a sophisticated clean look of beauty enclosing your new shower. Whether the door sits upon the curb or low threshold shower entrance or you have a specific need for a curbless wheelchair accessible shower you will have to consider all occupants and users when making your choice.
Who do you choose to help you with your dream? It is true that a professional bathroom remodeling contractor with years of experience will cost you more than a handyman illegally playing among the trades at your peril but then again there are those professional guarantees to consider. The professional verses the handyman is more likely to seek your overall satisfaction that will follow him into his next job. A true building professional can also orchestrate the job's smooth flow limiting the down time of a most useful room. Subcontractors will not be covered up and each skilled trade is brought onto the sight as needed in an orderly fashion. Professional builders normally have insurance to cover on the job accidents to protect the homeowners from having legal action brought against them personally. Be sure you ask for a certificate of insurance from your chosen professional contractor so that you aren't held personally liable for medical experiences covering a worker's accident while on your property.
I tell my customers all the time that one of their main ways of choosing a reputable contractor with a good track record and BBB experience rating is the ability for them to do work with the particular residential building contractor they are interviewing. Can they communicate easily relying on the contractor's experience and reputation and can they get along throughout the sometimes long and detailed construction process? Are they compatible as human beings because the only energy that should be spent during the project should be directed toward it's completion.
After choosing your residential construction contractor you should never pay for everything up front. Payments should be associated with aspects of the job and you should always get something for your money. Soft costs like designs, permits, or fees can be paid in advance to get the project rolling plus any custom made entities or materials ordered and stocked on the job sight. Never let the contractor draw ahead of what is actually happening no matter how much you are caught up in the building process. Paying for a little overhead to an honest, experienced, and bonafied construction professional will always cost more but usually saves you a lot in the long run. It's not always about the cheapest bid because you'll always get what you pay for. Get every aspect of the job in writing and both you and the chosen residential construction contractor must sign the document for it to be a binding contract.
---
The National Association of Home Builders, in partnership with the AARP and Home Innovation Research Labs, created the CAPS program, which includes training and education on the technical, business management and customer service skills essential to compete in the fastest growing segment of the residential remodeling industry--home modifications for aging in place. David L. Traut, CAPS the owner of T-Square Company in Austin, Texas is one of the select group of professionals nationwide to earn the Certified Aging-In-Place Specialist (CAPS) designation, identifying him as a home remodeler and builder with the skills and knowledge necessary to remodel or modify a home to meet the unique needs of the older population, disabled owners or their visitors. Call us at 512-444-0097 to see how we can help you design your bath for the future.