If you have been considering an Austin kitchen remodel project there are a few things you should take into consideration. Kitchen upgrades in Austin, Texas can take on many looks and facets. The scope of work you choose to accomplish this task should effectively solve your problems and most importantly, your needs as the home owner-- for now and for the future. The identification of these specific needs belongs to you the home owner. The way your home is structurally altered to accomplish these needs is the job of the professional remodeling contractor. Aging in place and accessibility should be a concern no matter what your age. If your concerns are not for you, barring any life changing accident, they could concern the accessibility of another generation's independence is using the bathroom. A CAPS professional in the remodeling industry can help with solutions in solving these issues while performing design/build home modifications. T-Square Company is a nationally registered CAPS remodeling contractor. We have over three decades worth of kitchen design/build experience.
When you are replacing your old cabinets during a kitchen remodel with some new fine cabinetry or perhaps you are just needing an updated work surface there are a few choices that need to be considered before making your final decision. Plastic laminates, solid surface material, granite, quartz, stainless steel, wood, and concrete are the most popular choices today when considering new or replacement counter tops for a fine kitchen upgrade. Each surface has it's own set of pros and cons to take under advisement before a conclusion is reached making sure your selection blends with your lifestyle. Remember that any samples of materials you see are only small representations of any larger piece when choosing products. Furthermore protection from heat sources and cutting boards should always be used no matter which top you choose. Kitchen upgrades and bathroom remodels return the most money at resale on the initial investment of the remodeling project. National averages show that kitchen remodels recoup around 70% of the costs of the upgrade at the time of resale. However, your kitchen remodeling costs should never exceed 15% of the total value of your home. Here is where you need to get your thinking cap on and plan for an affordable budget that is within your means. Your material choices are very important and if you need to stay mid-level to remain in your budget then do so. The labor involved for the project will be around 1.6 times the cost of the materials used. The total budget should allow $100 per square foot for your kitchen upgrade project at a minimum.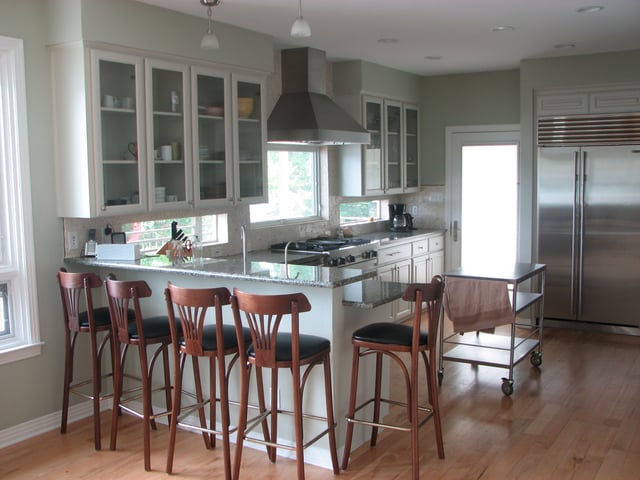 Kitchen remodeling in Austin, Texas is no different than anywhere else. Basically, for an average size kitchen of between 200-300 square feet you can budget a minimum of $30,000 for your kitchen upgrade. There are very few DIY kitchen remodeling projects. Once the demolition is accomplished the inexperienced homeowner should consider his part in the remodel to be complete. It's time to get the building professionals involved to make sure that the resulting kitchen upgrade functions correctly. The correct electrical wiring with the new outlets and appliance rough ins should be installed within the kitchen's frame work. Dedicated circuits per the national electrical code should be wired by a qualified electrician. This will insure that two appliances can be running simultaneously without tripping any circuit breakers. The electrician will also install the needed GFI protected circuits that keep you safe around any wet areas. It's also a great time to install all the upgraded lighting fixtures with the new switching they require. Skimping on the electrical budget can cause many problems including an electrical fire.
Plumbing upgrades need to be addressed and the use of a master plumber will make sure that everything functions correctly. Moving a sink over a small amount can add an additional $2,500 to your project's hard costs as it affects both the plumbing and the floor. The plumber can be sure that you have adequate water volume for any additional fixtures that will be involved. The plumber will be involved through the setting of the sink, fixtures, and all appliances requiring water to operate. When choosing a kitchen sink, whether it is a drop in model or an under mount, you can never go wrong with a good grade of stainless steel. These sinks never go out of style and you can outfit them with any color and kind of faucet finish that you see fit.
Any kitchen remodeling ideas will need to include a better service or work triangle between the sink, refrigerator, and stove placement when remodeling an Austin kitchen. The shorter the sum of the triangle legs the more efficient the layout. Twelve to fifteen feet is an optimum size for efficiency. Islands can also be incorporated into the design to increase your functionality. The prep sink within the island can become it's own focal point of the work triangle reducing the duties of the main kitchen sink. The orientation of the island toward the work triangle is very important making sure traffic can still flow freely within the designated triangle. Islands can contain all sorts of special storage areas. Mixer lifts, produce storage drawers, pullout shelving, divided drawers, wine storage, and dough board pullouts are just a few of the many useful aspects that can be incorporated into the island.
Moving on to the fine cabinetry for the project, you are limited by what you have budgeted for. Traditional face frame medium grade oak or maple cabinets will cost you around $160 per linear foot. Any exotic wood species are even more costly. Special cabinet amenities like pullouts beyond the basic drawer and shelf storage will add more to the total cabinet price. If the intent of your upgrade is to increase your accessibility via an ADA remodel as in wheelchair accessible, the new cabinets will most likely have to be custom made. These alterations should be done by a qualified residential construction contractor who is accomplished in dealing with the local ADA codes.
Frameless European full overlay style cabinets are a type of fine cabinetry having either a painted or stained wooden exterior or one with the exterior totally covered on all exposed surfaces in plastic laminate per your choice of color, pattern, or manufacturer. The laminated exterior application provides a much cleaner and more modern look for easier maintenance. The doors and drawer fronts on all European cabinetry are flat having no crevices to conceal grease and grime and directly overlay the cabinet box. Each door is mounted on the inside of the box using fully concealed and adjustable two part hinges. The frameless European style is represented only by the cabinet carcass or box, composed of the walls, bottom and top (if needed), and back without any face frame components yielding only a 3/4" outward appearance for all the stiles and rails. This European style which eliminates the usual two inch face frame gives full access to any stored contents with more usable room. These frameless cabinets limit the amount of exposed stile and rail surface area between the door and drawer faces. The exposed cabinet area is normally limited to 1/8-3/16 of an inch. This holds true between any two finished faces coming together presenting a half overlay situation on either a horizontal rail or vertical stile; hence, exhibiting the full overlay method. This clearance is also typical at the juncture toward the outside walls beside the cabinets. One other characteristic of the European design lies in the adjustable shelving. A series of 5mm holes are repeatedly drilled in 32mm increments (approximately 1 1/4") continuously at the front and back of all vertical cabinet pieces receiving shelves. This configuration allows for shelf supports to be inserted to adjust the shelves. In time, the shelf supporting "dogs" might wear out the holes and become loose causing the shelves to collapse. The retro use of metal pilasters will remedy the problem.
Following cabinet installation, there is no room for the application of wall trim in the European method. Spaces against the walls should be caulked in place to seal the carcass to the walls. If the gap toward the side walls is greater than 1/8 inch preventing a reasonable caulk joint, a laminated filler must be installed. This new filler should be cut and sanded to fit the taper tightly filling the gap. As mentioned above, the narrow but typical gap from the side of the cabinets to the wall can and will be a problem when European style cabinets are specified for a remodel. Don't forget that the 1/8th inch spacing rule means that no passage door or window trim can be any closer to the new cabinet faces than the cabinet drawers themselves are deep. Any such trim will always be 1/2 inch or more in thickness thus impedes cabinet function. By practicing this rule of thumb you will allow the drawers to fully extend. Cabinet doors will also have a clear swing radius and not be wedged against any perpendicular entry door trim. If the above needed clearance from the cabinet faces to the door trim is nonexistent the entry doors themselves must be relocated. This aspect will include any wiring for light switches or outlets and should be done by a qualified electrician.
There are many textured nonporous plastic laminates available today that will help keep your project costs in the black for the cabinet top. However, the premium grades of plastic laminate counter tops will still cost upwards of $45 per linear foot. Common grades of granite run around $100 per square foot including prep work like edges and sink cut outs and these granite choices can be purchased at square foot pricing. Premium or exotic granite tops must be purchased at slab pricing meaning you will end up with the remnants you don't use to complete the project. Quartz tops are somewhere in the middle and now some are becoming common stock materials in the storage yards available at square foot pricing. Back splashes can either match or be totally different from the surface of the counter top. Poured in place concrete tops are available as well as stainless steel or solid surface materials. Back splashes using tile patterns and designs must blend well with any of the chosen counter top surface choices.
Whatever your situation rely on the experiences of a local building professional. Check out their credentials and references over merely price checks against other bidders. Don't make the mistake of letting a cabinet maker subcontractor or tile installer play the part of a general contractor because his knowledge will be limited to that of the cabinets or tile and not the whole project. You get what you pay for with proper planning and by using an experienced and qualified contractor. T-Square Company has been an accomplished general contracting firm and builder in the Austin area for 35 years. Our design/build construction techniques will not only save you money but bring your dreams into reality in a seamless manner without confusion. Our team of master tradesmen will work together to make your ideas a reality. Call us at 512-444-0097 today to set up an in home appointment.