A Universal Design approach to kitchen conception takes into account people's varying degrees of ability and disability rather than someone is either fully-functional or disabled. The diversity among the users of the kitchen includes size, age and agility. The kitchen represents the family hub, and for the designated cook of the day, it is where many hours are spent caring for the family. A Universally Designed kitchen supports the diversity of all cooks, users, and helpers. With the additional cooks like granny or the kids, the kitchen no longer adequately accommodates everyone's participation and changes need to be made. This is especially noticeable once families decide to help each other and become multi-generational. Enlarged work spaces, larger passing areas, accessible work surfaces, storage within universal reach distances, accessible appliances, and flexible and layered lighting are a few of the inclusive changes for the kitchen. A cohesive blend of universal functionality for the abled and disabled with conventional convenience aspects for other family members is the goal guaranteeing a successful and accessible Universal Design kitchen for any home.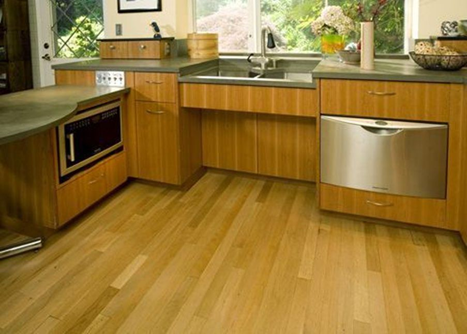 Homes with wheelchair accessible kitchens representing a by-product of Universal Design are a predictable necessity for the ever aging population. With the right layout, it is possible to make a home for maintaining the quality of life of the homeowners with disabilities while helping them live a more healthy, safe, and independent life. Kitchens with architectural barrier free layouts are more functional for everyone involved especially when mobility devices are required. Universal Design techniques give everyone a chance for equal independence. These very basic techniques provide adaptations or specialized designs regardless of age, ability, or situation.
In Universal Design kitchens, the work areas containing the sink and cook top have the capability of moving up and down with the touch of a button further accommodating the seated user or a helpful child. Cleaning is easier because of the adjustable height work and storage areas. When planning a Universal Design kitchen for anyone, every aspect of the space is considered from the cabinet height to the accessibility of appliances, to the space between cabinets and walls or islands. The principles of Universal Design call for the space to be functional and accessible for everyone in the household. This includes older homeowners with mobility or sight issues, as well as younger members of the family.
Layout and flow is especially considered when planning a Universal Design kitchen space. To promote functionality for all occupants, it is vital to consider every aspect of the design including doors, traffic patterns, and workstations. The universally designed accessible kitchen is one of usability. People need roll under capability at the sink and at least one food prep area if nowhere else. A clear floor space of 30 x 48 inches is provided in front of each accessible appliance and these areas of approach can overlap especially at the clear 5 foot turning radius. Raised dishwashers offer easier access to dishes and lowered microwaves and other appliances solve other reach distance problems making it easier to live with a disability.