Accessible bedrooms are important for people with or without disabilities and for anyone planning to Age in Place. A functional accessible bedroom involves basic Universal Design principles to accommodate future needs. This endeavor ensures access to everyone regardless of their age, abilities, or size. Using Universal Design in the bedroom guarantees everything is easy to see, in reach, and most importantly, easy to approach. Going from the bathroom to the bedroom involves the shortest distance allowed without turns if possible. Traveling from the accessible bedroom through a 36 inch wide door provides access into the designated accessible bathroom. The size of the targeted bedroom dictates the furniture layout. Determine the best furniture placement allowing a clear five foot turning radius inside the bedroom.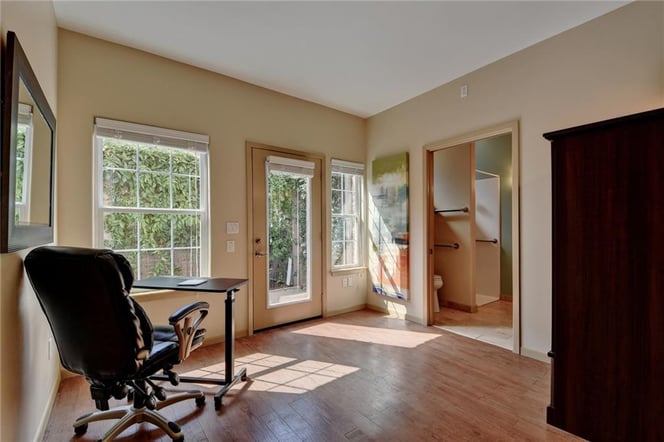 Arrange furniture producing a clear unobstructed 36 inch wide path and prevent clutter. Visualize moving around in the bedroom while approaching the closet utilizing a 30 x 48 inch clear space overlapping with the turning radius area. Always avoid clutter using too much furniture causing interference and trip hazards.
The closet and dressing area are part of the bedroom. When feasible, open shelf and drawer storage for non-hanging items provide the greatest accessibility in the closet. Built in pull out shelves and drawers are installed below the 48 inch rod/shelf location for specific storage. Fixed shelves or a pull down rod is installed as a storage solution above the 48 inch rod/shelf. Clothes carousels and automated shoe storage units provide further options for the closet. Automated shoe storage units provide an option to regular stationary shoe storage providing greater storage capacity. In any good Universal Design bedroom the lighting, color finishes, and flooring are specified correctly ensuring increased safety and ease of use concerning everyone using the bedroom. The end result is functional and beautiful as well as spacious creating a feeling of openness.