Aging in place design, construction, and remodeling has become synonymous with accessible home remodeling during our lifetime. Home modifications can be used to accommodate anyone from people with mobility impairments to those with vision loss, hearing loss, or even cognitive or developmental disabilities. A revolution in building design standards is long overdue in Austin. Our current building design standards do not address the needs of more than one third of our existing population. Many more people can greatly benefit from accessible design versus conventional design. Our rapidly aging population is experiencing the limitations of our personal living environments. Any evolution in building practically always begins in the common areas of the commercial building sector. The American Disabilities Act of 1990 increased the attention needed for those people having the right to equally access their work place and any recreational or leisure facilities. These rules at least offer minimal solutions for those needing the most help with any building access. We now must provide access to one bathroom on the first floor in new homes as deemed by our newly adopted building regulations. This basic right to an accessible bathroom is finally being enforced by the city building inspectors. What a tremendous needed and basic design improvement! This change in thought works great for new home owners but what about our existing inventory of older homes and their occupants?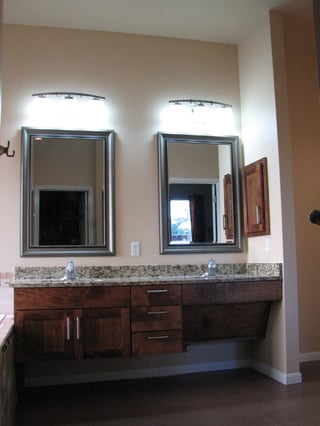 The National Association of Home Builders, in partnership with the AARP and Home Innovation Research Labs, created the CAPS program, which includes training and education on the technical, business management and customer service skills essential to compete in the fastest growing segment of the residential remodeling industry--home modifications for aging in place. David L. Traut, CAPS owner of T-Square Company in Austin, Texas as a handicap remodeling contractor is one of the select group of professionals nationwide to earn the Certified Aging-In-Place Specialist (CAPS) designation, identifying him as a home remodeler and builder with the skills, training, and knowledge necessary to design and remodel or modify a home to meet the unique needs of the older population, disabled owners, or their visitors.
Elder construction most definitely falls under the category of aging in place. People are living significantly longer with the advent of specialized medicine, care, and a healthier lifestyle. The Center for Disease Control defines aging in place as the ability to live in one's own home and community safely, independently, and comfortably regardless of age, income, or ability level. Aging in place construction and remodeling has become synonymous with handicap accessible home design and modification during our lifetime. Home modifications can be used to accommodate anyone from people with mobility impairments to those with vision loss, hearing loss, or even cognitive or developmental disabilities. Accessibility home modifications or wheelchair accessible kitchen and bathroom remodeling in Austin will allow anyone with limited mobility within your home to feel more empowered and independent. The extent of a customized accessibility design is dependent upon the activity level of the person requiring the modifications. Whether someone needs a cane, walker, or wheelchair to help with mobility it is definitely a game changer for accessibility within the home. Aging in place home modifications help people maintain their living environment for as long as it works for them before they might need assisted living care or a nursing home.
Many people find themselves needing accessible homes for themselves or family members. There are approximately 30 million Americans using wheelchairs and the number of people who need accessible homes will continue to increase as disabled and aging people are finding more ways to remain living in their homes. One important way to increase independent living is making a home accessible to any individual personal needs. Home modifications can increase safety, accessibility, and independence for people who want to live independently. Falls and slips are among the most common causes of injury to senior and elderly people. Smooth surfaces in combination with wet areas make the bathroom one of the most dangerous areas within the home. It is of paramount importance that the bathroom be updated providing safety for any person with limited mobility or the elderly. If you are on a tight budget and can only afford a few modifications, the bathroom is the first place to begin an accessibility remodel. The most basic improvements to enhance safety issues are fairly inexpensive.
Disability is a complex phenomenon representing an interaction between one's physical impairments, the activities they need to perform, and the architectural barriers within the space in which this situation occurs. The terminology and jargon used for disabilities evolves regularly whereas, "handicapped" is no longer acceptable. It is no longer merely a description of intellectual or physical impairments. Each individual with similar impairments describes his or her limitations differently. The blind don't experience their world the same as a person with deafness and so on. Physically challenged has become the more socially accepted description of a person with an impairment. No matter how old you are you should periodically evaluate your residence to determine whether it suits you not just for the present but the future. Your home assessments will be rethought every time your living situation changes. Whether childproofing for a newborn, making a home more accessible following a sickness or unfortunate accident to someone in the family, or making a toilet area safer for an aging residing parent, there will be an immediate evolution to your primary domicile. These same life span design features are even more important if you believe you're past the age of wanting to move and are relishing the thought of aging in your own home, no matter what physical limitations you might later develop. Incorporating smart aging design concepts like a roll in shower into a home will attract a larger group of buyers when you decide to finally sell your home. Preparing for one of those highly likely events involving someone in your home needing room modifications for even a short time while recovering from surgery is surely a smart move. Solving aging in place issues will soon become the number one challenge concerning the present obsolete housing inventory in our country.
Let's face it, accessible homes are needed by all of us at some time in our lives. This is true whether it's for ourselves, a family member, or a guest. The need is certainly not driven by age but is a result of life's experience. Any family living with disability among any of the generations within it's group can always benefit from additional accessibility. This will in turn increase safety and independence for all involved as they go through life.
Finding a contractor familiar with the guidelines of accessibility can be quite difficult. Be sure to check out the credentials of any potential bidders you contact. Be sure they understand that the alterations you are seeking are for wheel chair accessible home remodeling and modifications. Furthermore be sure this person knows and practices both the federal and most importantly your state's requirements before entering into any contract concerning Austin accessible home remodeling. The total assessment of any situation involving increased accessibility requires the input of the qualified building remodeler and any caretakers or family members who are involved with the person requiring the home modifications.
Aging in place home modifications are available through T-Square Company. We are a certified aging in place specialist. Each design/build situation will be customized to fit your personal needs increasing your accessibility. Call 512-444-0097 today to begin the accessible second chapter of your life while remaining safe and secure in your existing home. CAPS #1636580