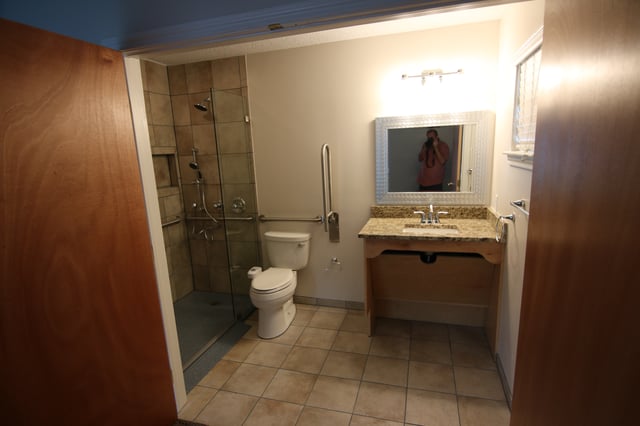 Disability home remodeling in Austin, Texas deals with everyone in our society and not just the aging baby boomer population. Bathroom accessibility remodeling in Austin, Texas is being driven by the forward thinking homeowners without urgent needs, the people who have progressive debilitating diseases, and those of us who have undergone a life changing traumatic experience. The current architecture in the United States is very antiquated in our aging housing market with small bathroom entries leading into tight quarters along with the narrow hallways toward the most useful common areas in the home. A new type of specialized remodeling has come about to fill the need for accessibility within the older home inventory. Home design targeted to people of varying ages and abilities is a current and growing market trend while providing a need for handicap remodeling.
Wheelchair accessible baths and kitchens are becoming the norm to take care of all the population of homeowners needing increased accessibility. Universal design techniques are giving everyone a chance to be independent. These very basic techniques provide adaptations or specialized designs regardless of age, ability, or situation. No longer are handicap home modifications viewed as a resale market diminishing factor. They are becoming a resale enhancer when you look at all the people in the nation simply needing accessibility in the bathroom to uphold their dignity and safety. Between the ages of 16 and 64, 19% of the population is disabled whereas those above the age of 65 exhibit a 42% disability rate. Nearly 62% of the homeowners in America report that someone in their family has mobility issues and disability needs.
A desire for a more marketable home that is more inviting and accessible to all in the home buyer market will drive the use of universal design criteria. Making a home feel more comfortable using some key elements like incorporating a zero step entrance into the home, providing interior doors along the accessible route with a minimum of 32 inch wide clearances, having a minimum 36 inch wide level route on the ground floor, exhibiting ground floor bathroom walls reinforced to accept grab bars for the toilet, tub, and shower, and a presence of light switches, outlet, thermostats, and other controls being installed at accessible heights at or below 48" are only a few modifications needed for increasing accessibility.
We rely on the published ADA rules for accessible bathroom fixtures and the clear floor space leading to them. Comfort height toilets at or around 18" in height, roll under vanities with 27" vertical clearance, and roll in showers with a minimum 42"x42" size (but bigger is better) will take care of the needs of most. Every circumstance must be considered when designing for those with special needs during bathroom modifications for the disabled. There is no "one shoe fits all" approach and much thought must be given to progressive conditions where care givers will be involved. Working with a physical or occupational therapist and the client often helps to identify effective solutions.
When faced with a home that can no longer meet one's needs, one must weigh the costs of moving against improving the home. In any move there are costs that sellers must incur to market their homes as well as relocating to another one. Rather than incurring an outright expense during a move, improvements add real value and enhance their home's appeal to more broader markets. Such homes enhance quality of life and enable occupants to enjoy the full use of their home while maintaining their personal independence. These modifications provide benefits to enable the residents to also remain in their communities with or without in home care and out of more expensive settings such as nursing homes.
Aging in place home modifications are available through T-Square Company in the Austin area. We have an A plus rating with the local BBB and have over 30 years of remodeling experience. We are additionally a certified aging in place specialist offering complete aging in place services. Each design/build situation will be customized to fit your personal needs increasing your accessibility. Call 512-444-0097 today to begin the accessible second chapter of your life while remaining safe and secure in your existing home. CAPS #1636580