Have you noticed all the different types of housing represented throughout Austin and the surrounding areas? Smaller homes, cottages, sprawling historical town homes surrounded by architecturally pleasing fences, rustic ranch homes, "Macmansions", and sleek high rise condominiums are just a few examples of the structures that define Austin's diverse housing landscape. Economic situations along with personal preference formulates where we choose to live in a town with such diversity. Most people remember how the old style bathtub/shower combination was a standard part of any bathroom design. Some residential showering areas were enclosed using the multicolored vinyl shower curtain option while others had bypassing or sliding shower doors on tracks. The doors were framed with either chrome or gold colored aluminum matching the sliding tracks. Modern bathroom designs have become much more sophisticated because the many available bathroom products are easier to be discovered by the homeowner. There are millions of pictures representing fine bathroom upgrades or bathroom remodeling all across the internet.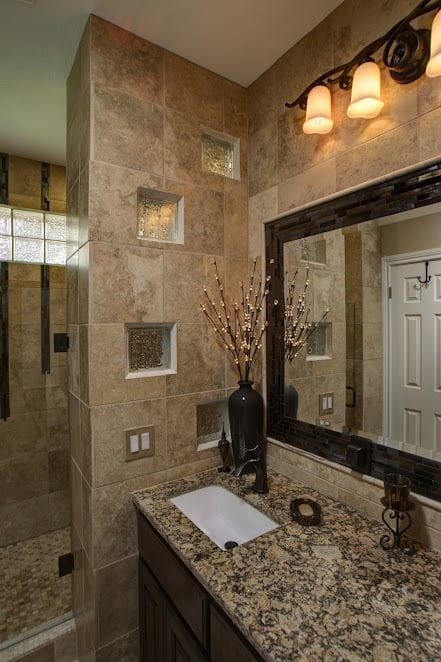 Living with a dysfunctional bathroom layout reduces the total feeling of relaxation your master bath is capable of providing. During those much deserved private moments you long for your bathroom's surroundings to provide both luxury and function. There isn't adequate lighting for the many daily personal duties like applying makeup. There needs to be adequate ventilation so you don't always feel as though you are housed in a "sweat box" while getting dressed. The outdated plate mirror extending from your vanity top's splash upward toward the drywall furrdown above has never been a design you thank the world of. You have always disliked that box above housing the poorly lit fluorescent tube lamps concealed by the yellowing plastic fluorescent light diffusing panel. You are sick and tired of the poor storage facilities inherited when you purchased your home. The height of the vanity is out of line according to your needs and it is also inadequate for your storage needs. The existing cabinet layout contains unusable drawers beginning to come off their tracks and the cabinet doors have their own particular issues. Your cabinets are either too deep to access what they contain or their storage capabilities have been limited by their total improper design. What were those guys thinking? What's more the out of fashion ceramic tiles are either partly missing or they are totally the wrong color for the day along with the colors within the rest of the room. Having improperly working plumbing fixtures that are now also antiquated with their own set of problems is yet another quandary within itself. The fixtures themselves can also be finished in a color that is long out of style. So what do you do?
Once you are considering a bathroom upgrade in Austin keep in mind that moving plumbing, especially drains, is one of the more expensive aspects of a fine bathroom makeover which involves floor demolition. If you can limit and control the costs involved with this one issue you will have more money to spend on the things that show off your endeavors. Changing water supply line locations is not as difficult or costly as moving drains.

Proper lighting is always an important aspect to be installed during a bathroom remodel. It can be broken down by task. Recessed LED cylindrical can lighting is used today to provide the overall luminescence for the room. Trims with lenses can be installed above baths and showers by code to brighten darker areas. Light strips or single wall fixtures can be designed around a framed beveled mirror. The choice of bulbs utilized is yours for now at least. Try using dimmers to control your lighting creating mood.
Ventilation is so important when planning a bathroom upgrade because of the humidity involved. Too many times a single undersized exhaust fan is installed above the toilet, or what is much worse, in the center of the room. Heat and humidity naturally rise and will overtake the entire room if given a chance. Today's quiet bathroom exhaust fans should be sized according to the room's air volume. They should be located above any bathing or showering facility and additionally above the toilet. Conditioned air along with adequately sized duct work supplied by the central unit will further accentuate a pleasant feeling within the bath.
Bathroom plumbing fixture choices are numerous to say the least. Select reputable companies offering the best warranties especially when considering finishes used on control valve trims and the other fixtures installed in the project. Larger walk in shower designs with shorter curbs should have seamless fiberglass liners or one piece base units to avoid leaks if the house ever shifts. Using natural stone or glass tiles on the shower walls while additionally designing in glass blocks will certainly be an upgrade. As for the new walk in shower design, you can design the space to not need a door for splash protection or you can take the route of a clean looking frameless glass shower enclosure. This will surely set you back at least $1100. The end result will be a sophisticated clean look of beauty enclosing your new shower. Whether the door sits upon a curb or you have a specific need for a curbless wheelchair accessible situation you will be satisfied with your choice.
Human problems must also be solved using correct designs. Aging in place design has stemmed from people who have become seriously injured, people living with a debilitating disease, people with sensory limitations or intellectual limitations, and last but not least the people who are planning to stay in their homes for as long as possible all need accessible homes in Austin. The need for dealing with disabilities empowers us all to ensure that we create environments wherein people can function effectively.
The concept of the accessible home has evolved beyond the basic grab bars and ramps to one in which accessibility is built into the basic design. Universal design makes living in a home easier for people of all ages and abilities. Accessible can be both beautiful and functional and never needs to have any institutional appearance. As our aging baby boomer population ages, the need for accessibility in the home is becoming ever more important. This new way of viewing the basic home in our society and our antiquated architecture is giving way to a revolution in home design. Ordinary homeowners with extraordinary challenges can partner up with CAPS design professionals, architects, and their own families to create homes to restore capabilities, independence, and grace to daily living.

A desire for a more marketable home that is more inviting and accessible to all in the home buyer market will drive the use of Universal Design criteria. Making a home feel more comfortable using some key elements like incorporating a zero step entrance into the home, providing interior doors along the accessible route with a minimum of 32 inch wide clearances, having a minimum 36 inch wide level route on the ground floor, exhibiting ground floor bathroom walls reinforced to accept grab bars for the toilet, tub, and shower, and a presence of light switches, outlet, thermostats, and other controls being installed at accessible heights are only a few modifications needed for increasing accessibility.
We rely on the published ADA rules for accessible bathroom fixtures and the clear floor space leading to them. Comfort height toilets, roll under vanities, and roll in showers will take care of the needs of most but every circumstance must be considered when designing for those with special needs. There is no "one shoe fits all" approach and much thought must be given to progressive conditions where care givers will be involved. Working with a physical or occupational therapist and the client often helps to identify effective solutions.
When faced with a home that can no longer meet one's needs, one must weigh the costs of moving against improving the home. In any move there are costs that sellers must incur to market their homes as well as relocating to another one. Rather than incurring an outright expense during a move, improvements add real value and enhance their home's appeal to more broader markets. Such homes enhance quality of life and enable occupants to enjoy the full use of their home while maintaining their personal independence. These modifications provide benefits to enable the residents to also remain in their communities with or without in home care and out of more expensive settings such as nursing homes.

Wheelchair accessible baths are becoming the norm to take care of all the population of homeowners needing increased accessibility. Universal design techniques are giving everyone a chance to be independent. These very basic techniques provide adaptations or specialized designs regardless of age, ability, or situation. No longer are handicap home modifications viewed as a resale market diminishing factor. They are becoming a resale enhancer when you look at all the people in the nation simply needing accessibility in the bathroom to uphold their dignity and safety. Between the ages of 16 and 64, 19% of the population is disabled whereas those above the age of 65 exhibit a 42% disability rate. Nearly 62% of the homeowners in America report that someone in their family has mobility issues and disability needs.
I tell my customers all the time that one of their main ways of choosing a reputable contractor with a good track record and BBB experience rating is the ability for them to do work with the particular residential building contractor they are interviewing. Can they communicate easily relying on the contractor's experience and reputation and can they get along throughout the sometimes long and detailed construction process? Are they compatible as human beings because the only energy that should be spent during the project should be directed toward it's completion. Call us at 512-444-0097 to schedule an appointment to begin your next design/build bathroom remodeling project.