Aging In Place Home Modifications And Accessible Homes of Austin, Texas!
Have you decided to remain in your home for as long as possible? If so, your home should be assessed by a specialized aging in place remodeler holding a nationally registered CAPS certification. Receive an attainable design/build solution for your home just by filling out this form. Aging in place home modifications and Accessible homes of Austin, texas can keep you safer, healthy and more independent.
For instance:
Find out how aging in place barrier free home designs will achieve increased accessibility and manuverability for both you and your family in the bathroom or kitchen through roll under cabinetry and roll in showers.
Stay in your home longer around your friends and within your existing neighborhood utilizing CAPS Certified remodeling in Austin, Texas.
See how aging in place home modifications can give you the most return for your investment and enhance your home's current value.
Promote the independence, safety, and functional ability of physically challenged and aging individuals when they no longer worry about falling.
Add an accessible bathroom and bedroom using universal design techniques to the main level of your home.
Find out how personal lifts can solve elevation changes for increased maneuverability.
Home automation using automatic door openers and WiFi controlled light switches can make your life easier.
We are a certified VA remodeling contractor to assist our veterans.
Don't waste your time and money by calling just any home remodeler. Consult with a CAPS certified professional by filling out the form. You will find out that it's much cheaper than relocating when utilizing the knowledge and skills of a trained CAPS professional.
Wheelchair Accessible Bathroom In Austin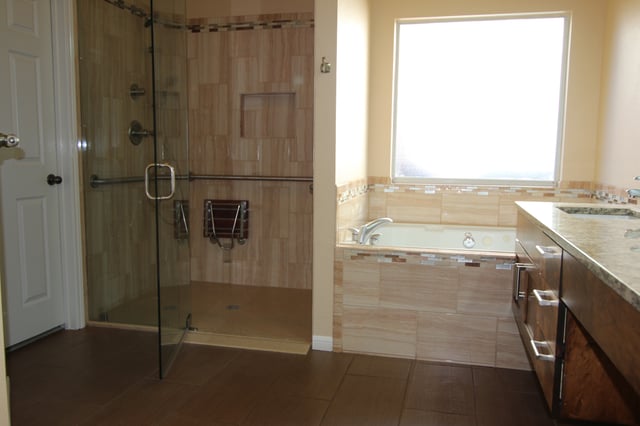 Contact Us