Residential Remodeling Contractor in Austin
Home Modifications For Independent Living In Austin
Universal Design/Build Accessibility Projects
T-Square Company in Austin, Texas has been doing accessible home remodeling for over 30 years. We are a disabled and special needs contractor in Austin. We have a nationally accredited CAPS (Certified Aging in Place Specialist) and an A-plus rating with the BBB (Better Business Bureau). We are also a certified contractor with the VA so we can help veterans who have given so much for our country. Our design/build accessibility projects have helped many clients over the years.
While everyone will have different needs and wants as they age over time, there are many ways to make homes more user-friendly or accessible. Having the ability to enter the home from the outdoors is one of the first steps to enjoying a home. Once inside, the overall layout of the home can make a significant impact on the convenience and usability of the home. Universal design principles recommend a bedroom, kitchen, entertainment area and a full bathroom on the main floor. Finding a professional with the expertise to design, build or remodel a home to be handicap accessible might seem overwhelming. One place to start is by looking through the selection of Certified Aging-In-Place Specialists. This designation program, offered through the National Association of Home Builders, incorporates components of assessment, technical knowledge and management skills related to home modifications that will allow people to stay in their own homes safely and independently for a longer amount of time.
As reported by AARP, 80% of seniors have a firm plan to age in place. There are some home modifications that should be completed to make aging in place more possible for older adults, though. These modifications are a proactive approach to increasing the level of safety in the home, and they often add convenience and comfort for seniors as well. While there are sometimes high costs associated with modifying homes to enable seniors to age in place, many older adults are happy to incur these expenses to fulfill their wish to remain in their own homes.
Along with aging in place, universal design is becoming more of a household term. Essentially, it's about building or modifying places and spaces—both public and private—to accommodate people of all ages and abilities. More than just an architectural concept, universal design is a win-win for sandwich generation boomers caring for aging parents and their children at home, for grandparents raising grandchildren and great-grandchildren, and for all who are facing the challenges of caring for a loved one with Alzheimer's or other chronic diseases.
Whether your family needs the support now or down the road, universal design features are a good long-term investment for the home itself.
By filling out the form you can find out if it's possible to make the home modifications you're considering and what is ADA Compliant
For instance:
Design/build projects involving changing a roof line for an accessible room addition using Universal Design
Removing architectural barriers in your existing home for you or a loved one to age in place improving the accessible route
Removing a wall or walls to increase accessibility and approach clearance for adequate wheelchair accessibility
Adding, widening, or deleting a door or window to provide adequate width for wheelchair maneuverability
Automation of your existing doors to make entrances more accessible using your hand held device

Accessible bathrooms and kitchens

We are CAPS certified in a national registry completing accessible home designs in Austin and elder construction
We are a registered VA home remodeling contractor for our veterans
So why keep wondering if a project is structurally possible or how much it will cost. Contact T-Square Company and let our over three decades of experience work for you.
Or CALL 512-444-0097 TODAY TO SCHEDULE AN APPOINTMENT!
The Walls Surrounding The Toilet Were Removed For Increased Handicap Accessibility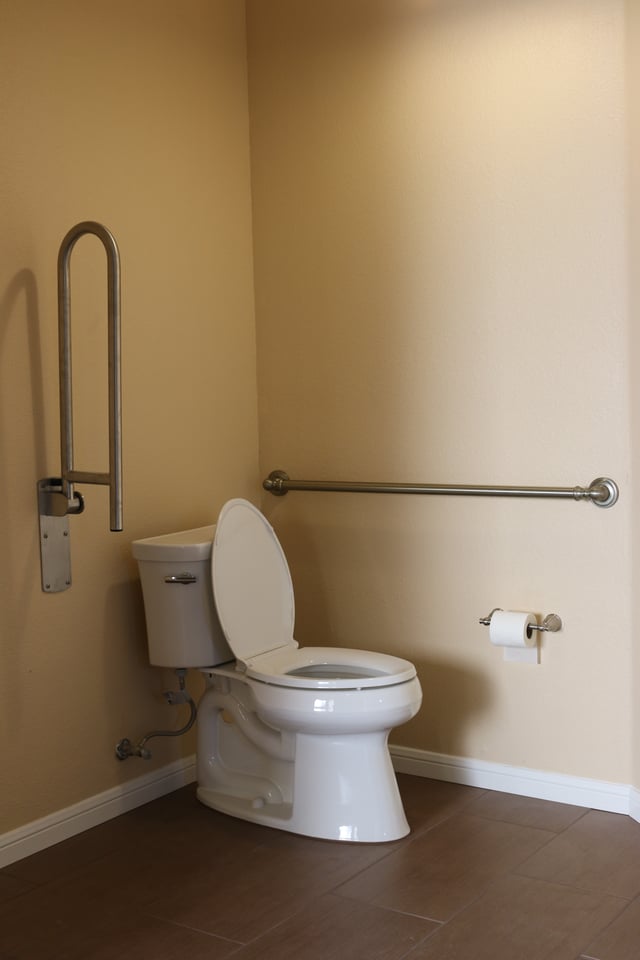 Wheelchair Accessible Bathroom Vanities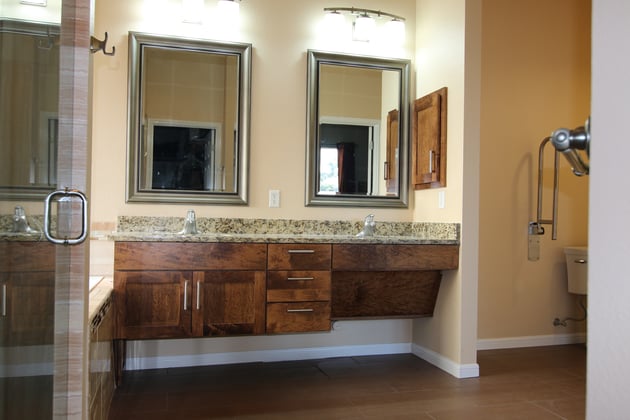 A Wheelchair Accessible Roll In Shower Design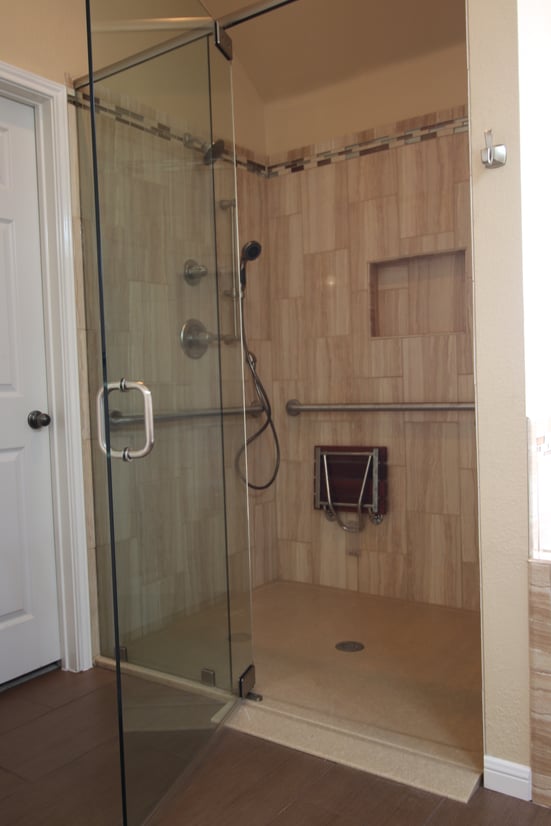 Roll In Showers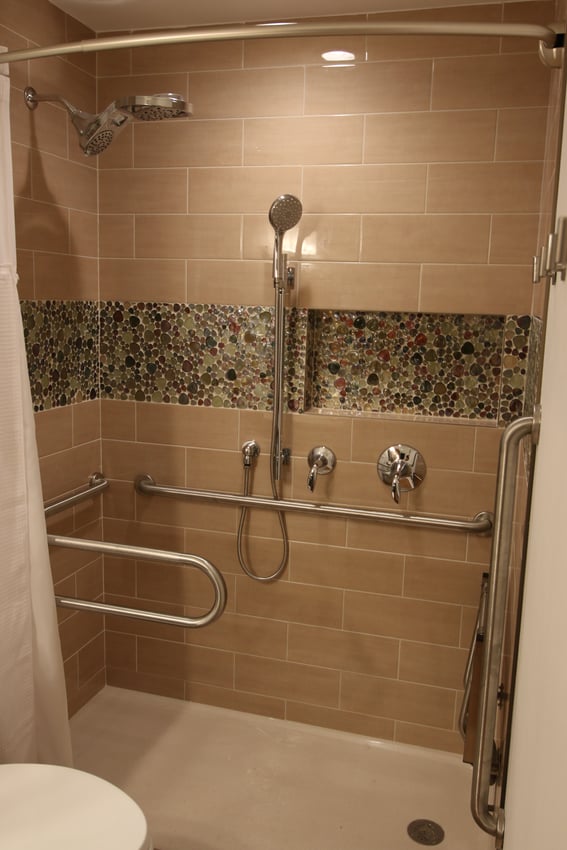 Wheelchair Accessible Kitchens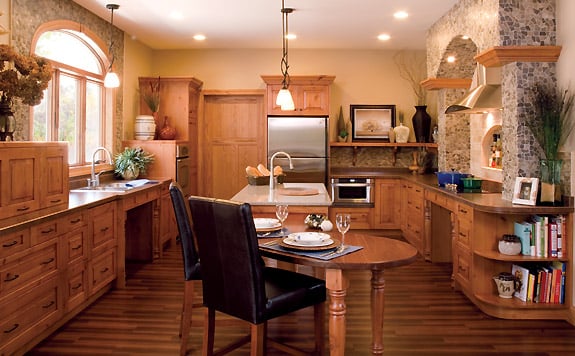 A Second Means Of Egress Was Created From The Master Bedroom Using A Vertical Platform Lift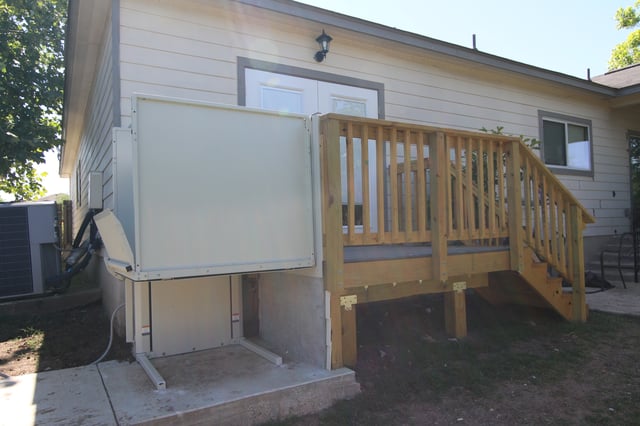 A Double Door Was Inserted Allowing A Wheelchair Five Foot Turning Radius