Kitchen Makeover Austin, Texas
Fine Cabinetry In Austin, Texas
We are accessibility specialists holding a national CAPS certification #1636580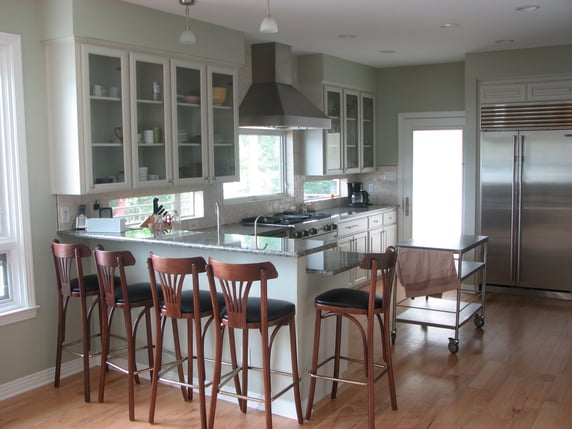 T-Square Company is here to help you achieve your kitchen design goals. Whether you are remodeling or building a new home T-Square Company will help you understand the process and timeline for kitchen remodeling. Our expert design/build approach makes your remodeling or building experience a positive one.There are no substitutions for the hands on experience of your builder when considering a kitchen remodel or makeover. T-Square Company has been doing fine kitchen upgrades for over three decades in Austin, Texas.
With so many different design styles, it can be hard to narrow your preferences down to one. What draws you to these cabinets over those cabinets? Why does the style of that kitchen call out to you but another one doesn't? Is it just the color or finishes you admire, or is it something more? At T-Square Company, we suggest clients come prepared to a meeting concerning their kitchen remodel with images of spaces they admire. We help the client sort through their likes and dislikes for their kitchen remodel and bring in elements of practicality and function for the project. The more information you provide to us, the more inclusive your dreams and needs can become. You can totally rely upon our professional experience and knowledge insuring the best kitchen design is proposed.
We offer experienced in house kitchen remodeling designs and construction!
Our custom solid wood built in house fine cabinetry will enhance any kitchen remodeling project!
T-Square Company is an A Plus accredited member of the local BBB chapter since 1988!
Bathroom Kitchen remodels are a specialty.
By utilizing our nationally accredited CAPS certification we can provide you with cabinets that increase your accessibility through universal design.


Along with aging in place, universal design is becoming more of a household term. Essentially, it's about building or modifying places and spaces—both public and private—to accommodate people of all ages and abilities. More than just an architectural concept, universal design is a win-win for sandwich generation boomers caring for aging parents or their children at home, for grandparents raising grandchildren and great-grandchildren, and for all who are facing the challenges of caring for a loved one with Alzheimer's or other chronic diseases. Our Universal Design kitchens offer complete adaptability and usability for the widest range of users.
If your kitchen suddenly is no longer accessible due to a disability, does this mean that the situation is beyond repair? Is it possible to have a beautiful kitchen that is also accessible for a wheelchair user?
T-Square Company, as well as several of our clients, will emphatically tell you this is no longer a problem! In fact, at first glance, many people don't even realize that some of our kitchens were designed for someone coping with a disability! The increased accessibility blends into the home's surroundings. We have the knowledge and credentials to design an ADA or barrier-free kitchen. We offer ideas and designs for barrier-free kitchen design, wheelchair mobility, work space comfort, and accessibility to cabinets and storage space.
Whether your family needs the support now or down the road, universal design features are a good long-term investment for the home itself.
Fine Kitchen Upgrades Using Specialty Lighting and Custom Wooden Cabinetry with Flat Panel Doors and Concealed European Hinges