Handicap Remodeling Contractor Austin
Handicap Home Modifications In Austin, Texas
Universal Design/Build Accessibility Projects
We offer constructive answers for all our special needs customers. T-Square Company has dealt with accessibility issues in Austin for over three decades and is one of the premier handicap remodeling contractors in Austin, Texas. You will receive experienced and knowledgeable solutions to your accessibility problems simply by filling out our form. We specialize in accessible homes of Austin. We hold a national CAPS registry (#1636580) and are a VA certified company and practice universal design techniques to provide accessibility to everyone regardless of their age. Our specialized training allows us to evaluate your needs, provide smart solutions, and supervise every aspect of any required home modification. We provide all the consulting, design, and construction services you need to make your home more accessible and convenient, from handicap ramps and door or hallway widening, to accessible kitchens and bathrooms, a more accessible bedroom, and fully accessible bathroom additions, automatic door openers, low-pile carpet/smooth flooring, easy-access closets, easily operated windows, lighting, emergency exits, wheelchair height mailboxes, doorbells, outlets and controls.
Our building and home modifications provide barrier-free access and inclusion for any individual, with or without a disability. Designers use the term "design for all" to describe products, services and systems designed for use by many individuals and many ability levels. The concept of "barrier-free accessibility" addresses the notion that a disability is a handicap only if it prevents a person from doing what others are able to do freely. If the barrier is non-existent, so is the handicap.
When making a checklist for handicap home modifications, consider the principles of universal design. This philosophy centers around the creation of environments accessible and usable to all people, to the greatest possible extent, regardless of abilities or age. While different disabilities call for different home modifications, you'll ultimately need to have an in-depth discussion of individualized modifications with a CAPS certified contractor and your occupational or physical therapist. This will ensure a thorough execution of universal design principles for specific needs.
In the kitchen and bathroom, the most utililized rooms of the home, fixtures call for lots of customization. In our wheelchair accessible kitchens, lowered counter tops with knee spaces underneath allow wheelchair access. Also in the kitchen, low-oriented pull-out shelves and rotating lazy-Susans bolster accessibility, while clearly marked, front-mounted stove and oven controls increase safety. In the bathroom, grab bars and bath tub or shower seating ensure stability while bathing. Utilitarian modifications such as garbage disposals and handheld shower heads offer additional convenience and accessibility.
For instance:
An individual needs assessment working alongside physical and occupational therapists!
A total home evaluation to determine what changes can be made to keep you healthy, independent, and safe!
Show you how to create an accessible route throughout your home through proven accessibility standards!
Overcome any existing architectural barriers through Universal Design techniques!
Solve all aging in place issues while increasing your independence and safety while you remain in your existing home!
Increase your personal safety in an accessible bath or kitchen!
We offer all types of products including personal lifts and home automation using automatic door openers and WiFi controlled light switches!
We provide you with an accessible workplace for those working from home!
You do not have to lose your independence while aging in place within your own home. Let us show you how to gain the accessibility and safety you desire while increasing the value of your home as it will appeal to not only the fully mobile sector but to those seeking accessibility.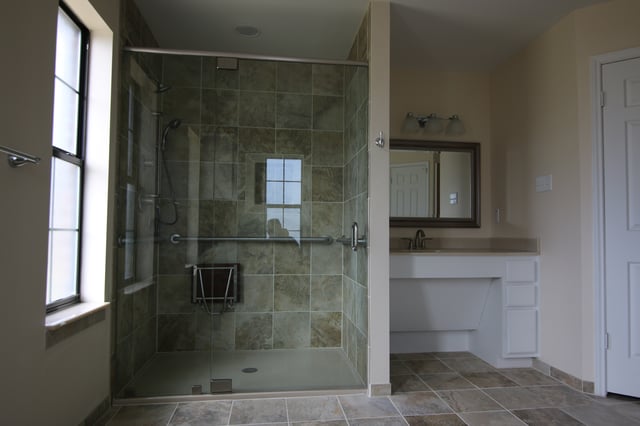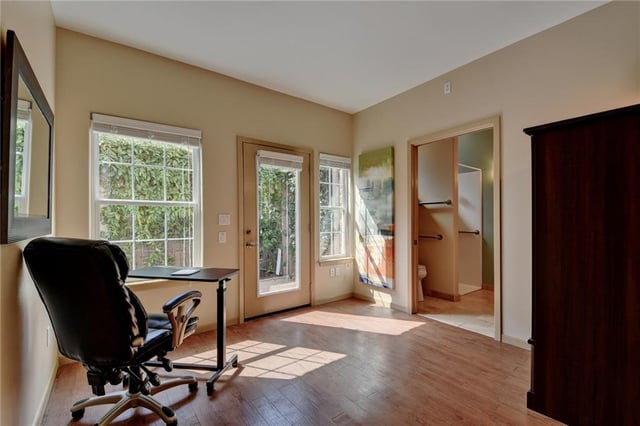 Helping You Get Around Your House More Easily
Accessible housing is vital for the independence of people with disabilities and the elderly. At T-Square Company, we have the experience, expertise and sensitivity to provide modifications to make your home safer, more accessible, and better suited to your needs. We have the practical solutions that improve your quality of life at the lowest possible cost to you as you age in place within your existing home.