Custom Tile Design is Only Limited By Your Imagination
Universal Design/Build Projects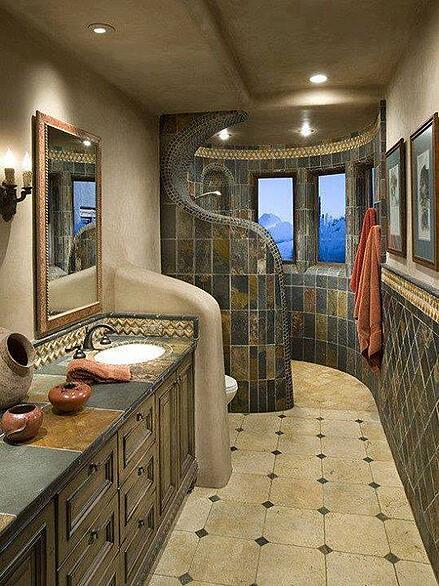 Bathroom Remodeling in Austin, Texas includes:
Design/build custom walk in shower designs or wheelchair accessible roll in showers for aging in place home remodeling!
Let us show you how fine cabinetry like a new custom wooden vanity can provide you with the space you need or the accessibility desired for our physically challenged customers!
See how a therapeutic tub can enhance your lifestyle!
Aging in place home modifications and accessibility issues can be resolved through our nationally registered CAPS certification.
Get the greatest use of your existing bathroom's square footage or add some additional space from an adjacent area. Fill out the form over to the right and see how we can help you fulfill your dreams!
Along with aging in place, universal design is becoming more of a household term. Essentially, it's about building or modifying places and spaces—both public and private—to accommodate people of all ages and abilities. More than just an architectural concept, universal design is a win-win for sandwich generation boomers caring for aging parents and their children at home, for grandparents raising grandchildren and great-grandchildren, and for all who are facing the challenges of caring for a loved one with Alzheimer's or other chronic diseases.
Whether your family needs the support now or down the road, universal design features are a good long-term investment for the home itself.
[previous] [first] [index] [last] [next]
Gallery of Previous Work - Please browse with the buttons above.
Custom tile designs have endless possibilities using ceramic, granite, marble, porcelain, onyx, and glass mixtures giving one an endless palate from which to choose for any bathroom upgrade.
Custom Walk in Shower Designs Utilizing Travertine Marble With Glass Tile Accents and Glass Blocks