Street Approaches And Visitability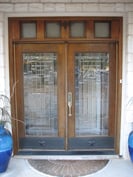 Do you have older relatives? Do you know someone who's been ill or injured? Do they ever visit you? Even if full compliance seems a distant vision, partial access is within reach. "Visitability" statutes are starting to crop up in neighborhoods around the country, requiring zero-step entrances, accessible half-bathrooms, and a wide-enough path of travel connecting activity areas at the first floor. Visitable design is considerate design. The idea of "adaptability" addresses a valuable middle-ground in the design of homes, somewhere between full accessibility and the typical barrier-filled residence. Problems encountered while entering the home when you are wheelchair bound generally begin before or at the front door. If you can reach the front porch approach without obstruction then you have a great start since the stairs leading onto the front porch can be another matter altogether. A correctly designed ramp having a 1:12 slope can adequately solve this problem but a 1:16-1:20 slope is more inviting to manual wheelchair users. Once you are safely upon the porch, your home's front door width can become an issue. Everyone has a basic need for an easily accessible entry into their home. A covered well-lit no step entry is essential and the lighting can be controlled with a motion control for safer access. It may be that by having several entrances into the house you may need to designate one entrance especially if you have any mobility issues that is truly accessible. Any entry door less than three feet in width will cause a problem in maintaining a required 32 inch clear entry way which starts the new accessible route within your home. The entry into the house should be through a 36" wide door having an ADA threshold to create a no step entry. This is a great place to begin an barrier free accessible route throughout the home. Rolling over any vertical threshold height greater than 1/2" is difficult to maneuver when using a wheelchair or walker. You should try to provide a clear barrier free path or accessible route to the most visited areas of your home as recommended by the ADA. The three areas needing improvement for a person wanting to age in place are the bathroom, the kitchen, and the family area.
Wheelchair Accessible Bathrooms
Bathroom accessibility modifications for disabled clients contain designated accessible routes created by hiring a knowledgeable residential construction contractor holding a CAPS certificate. The experienced builder you contract with must be skilled in both home remodeling and all ADA accessible guidelines. The bathroom can be one of the most dangerous places in your home. The bathroom can present many access challenges to people who use a wheelchair or need accommodations. Bathroom safety is one of the number one concerns in making a home accessible because more than 2/3 of emergency room visits are due to bathroom falls. The tub and shower are the most hazardous areas for young adults and most falls for elderly occur near the toilet. Falls in the bathroom can be due to a wet floor, small spaces to maneuver, and/or bending and lifting required in accessing the tub, shower or toilet. The ultimate goal in accessible design is to make the bathroom space safe for everyone who uses the bathroom. What is Universal Design? Universal design can better accommodate wheelchair users and can make the bathroom more comfortable for all users and many times can be done without sacrificing style. It is important to carefully plan the building or remodeling for a wheelchair accessible bathroom by taking inventory of the users capabilities and preferences. Today's conventional building standards conflict with most people's accessibility when you consider our created architectural barriers concerning cabinetry and door opening widths, individual strength, range of motion, movement, manual dexterity, balance, and coordination. Inside the accessible bathroom design, try to maintain a five foot turning radius for a wheelchair. Bring the plumbing facilities into compliance to enable greater freedom and safety. Bathroom modifications for the disabled involve the use of grab bars within the tub or shower and around the toilet which can be very helpful insuring safety for maneuverability. The handicap bath or roll in shower may need to be altered to become only a shower with roll in or possibly transfer capabilities. Our shower remodeling includes Handicap accessible showers with adequately mounted grab bars all around for safety accompanied by hand held shower heads on adjustable sliding bars should be installed with adjacent folding seats. A curbless or non-threshold shower entrance is a superior design for gaining access to the walk in shower but it must be correctly designed for drainage. A curbless shower does not mean a shower door cannot be incorporated into the design. Accessible bathrooms incorporating aging in place design today contain stylish vanities set at a universal height of 34 inches with clear knee spaces. A wall mounted sink can add accessibility to a bathroom by adding additional free space underneath the sink. This allows access with either a wheelchair or bench. The sink faucets are easily controlled by either wrist handles or levers. Standing and seating is taken for granted by most everyone but for those with strength, balance, and mobility issues it can be a difficult task. This is why the toilet has to be a great consideration when designing an accessible, secure, and safe environment. Not only will it help prevent injury but the optimal accessibility design will help preserve an individual's dignity by extending their ability to function independently. Toilets are available in comfort heights eliminating the deep knee bend needed for seating. Toilet seats are available with a heat feature and some have the ability to self-close or have a night light.
.
Wheelchair Accessible Kitchens
Since the kitchen is often the most important, and the most used, room in the home, it must be able to support a wide range of human requirements for a variety of different users. Here is where the family gathers daily, sometimes several times, or it's the family hub, and for the cook, it is often where many hours are spent caring for the family. The room must function to carry out systematic storage, food preparation, cooking, serving, and associated maintenance. Now what if this room all of a sudden is no longer accessible to everyone within the family unit due to a disability? Does this mean that the situation is beyond repair? Is it possible to have a beautiful kitchen that is also accessible for the wheelchair user? In fact, at first glance, many people don't even realize that some accessible kitchens were designed for someone coping with a disability!
The goal of accommodating a kitchen is to create a barrier-free design to give access to all people whether abled or disabled. There is more information available on modifying a kitchen than any other part of a home. When designed correctly, an accessible kitchen can be used easily by everyone in the household. The available floor space after installation of all adaptable features is an important consideration. While almost any size kitchen can be made to be disability friendly, just make sure the actual, livable floor space is adequate for those with disability needs. If you must accommodate walker, wheelchair or even walking cane use, be sure to design your kitchen with the ample dimensions that will best allow easy operation for the disabled.
The kitchen cabinetry and counter top areas are two of the most important areas for every accessible kitchen, whether it's simply for aging in place planning or for more extensive accessibility. In new or fully remodeled kitchens, cabinet and counter top design is built to work together seamlessly to create a general kitchen work station that is reachable, safe and highly functional. The recommended minimum clearance between opposing cabinet fronts, counter top edges or walls is 40 inches except for a U-shaped kitchen, which is 60 inches. Base cabinets should include: U-shaped handles for easy use to avoid grasping a knob; installing a lazy-Susan, pull-out trays or storage shelves and pot racks; holders for various food wraps attached to the inside of cabinet doors; 2 feet of heat-resistant counter top next to the range allowing wheelchair users to slide hot utensils without the danger of trying to lift them; using small electrical appliances, which often are easier to handle; and, if possible, the installation of a double sink with a shallow (5 to 6 inch) side or a cushioned rack in one side that can be used to raise the bottom of one side of the sink. The drain of the sink should be in the back for easier reach and maximum leg space around the disposal. Kitchen sinks, food prep areas, and cook tops should have an open space beneath them to provide wheelchair or walker accessibility. Ample prep space is ideal for any kitchen, but including multiple counter levels is a savvy universal-design solution.
The lack of bending motion and decreasing reach distances is changing the way we purchase and install appliances at comfortable heights. Placing dishwashers higher by a few inches to limit bending has become a reachable fad and the new height is changing the old look of our kitchens. Refrigerator drawers, dishwashing drawers, and double ovens that are no longer stacked are just a few changes within the present day appliance marketplace. A typical dishwasher opens outward, not leaving much room for maneuverability. The installation of dishwashing drawers solves this problem for everyone and is a great idea for small loads of dishes. The advantage of refrigerated drawers installed just below the counter top provides access to both refrigerated and frozen items which are now conveniently accessible to anyone seated. These can be used in conjunction with a conventional side by side or French door refrigerator which will store the major contents. The refrigerator door on a typical refrigerator can be difficult to maneuver around, not to mention a top-mounted freezer. Cooking ranges with the controls located on the front represents another metamorphosis helping with reach problems in the kitchen. Microwaves can be installed on the now lowered counter top or within the lowered base cabinet according to the consumers need for adequate reach. Any operable parts associated with the appliances should be operable using one hand with minimal effort without tight grasping. All controls should be well marked and visible. There a number of products used to help improve the usability of the kitchen. Considering the broader range of cooks in the kitchen, these concepts will include pot filler faucets and built in steamers which eliminate the need for a cook to transfer heavy pots of hot water while cooking.