Accessible Homes in Austin
Home Remodeling For the Elderly
Call 512-444-0097 today.
Along with aging in place home modifications for seniors, universal design is becoming more of a household term. Essentially, it's about building or modifying places and spaces—both public and private—to accommodate people of all ages and abilities. More than just an architectural concept, universal design is a win-win for sandwich generation boomers caring for aging parents and their children at home, for grandparents raising grandchildren and great-grandchildren, and for all who are facing the challenges of caring for a loved one with Alzheimer's or other chronic diseases.
Whether your family needs the support now or down the road, universal design features are a good long-term investment for the home itself.
If mobility issues have dictated home modifications be done in order to increase your safety and independence then you've come to the right website. We specialize in removing accessibility barriers in Austin and are a registered VA remodeling contractor. When families are suddenly thrust into the responsibility of caring for an ill or injured family member, knowing how to make their homes accessible, barrier free and safe can be challenging. Even families that are savvy and experienced may have trouble figuring out whom to call for a roll-in-shower or door widening. Let's face it, accessible homes are needed by all of us at some time in our lives. This is true whether it's for ourselves, a family member, or a guest. The need is certainly not driven by age but is a result of life's experience. Any family living with disability among any of the generations within it's group can always benefit from additional accessibility. This will in turn increase safety and independence for all involved as they go through life.
We are CAPS certified (#1636580) and have the training, knowledge, and experience required to show you how to identify and accomplish any needed remodeling project using Universal Design techniques for aging in place. We offer design/build projects for accessible living spaces in all of our accessibility remodels in Austin.
We have over 30 years of residential remodeling experience.
We have an A-plus rating with the BBB.
We hold the national CAPS NAHB certification to show you how you can stay in your home longer and out of facilities for special care.
We are a design/build firm providing turnkey Aging In Place services to you.
You can achieve the accessibility you require in the kitchen, bath, or any other room within your home.
Wheelchair accessible home modifications are available to make your life or that of a loved one easier.
We offer all types of physical personal lifts and home automation including automatic door openers and WiFi controlled light switches.
Finding a contractor familiar with the guidelines of accessibility, aging in place design , and Elder construction can be quite difficult. Be sure to check out the credentials of any potential bidders you contact. Be sure they understand that the alterations you are seeking are for wheel chair accessible home remodeling and modifications. Furthermore be sure this person knows and practices both the federal and most importantly your state's requirements before entering into any contract.
Roll In Showers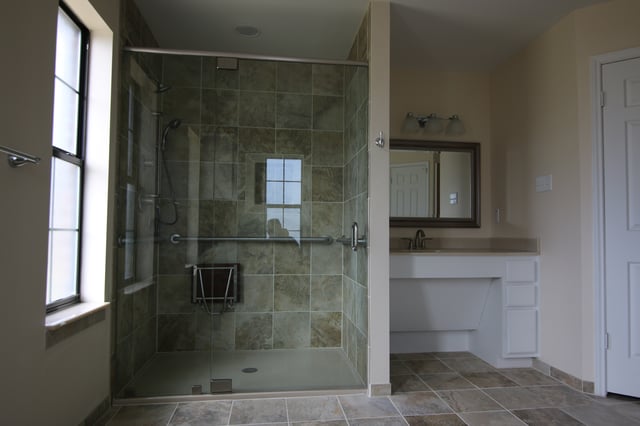 ADA Compatible Kitchens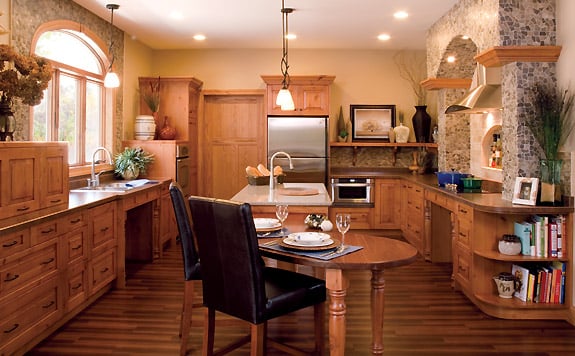 What really defines accessible homes and elder construction in Austin? Barrier free architectural design and accessibility for all who enter the structure while approaching the main living areas of the home in question is a fair definition. Universal design and aging in place trends have taken hold in the residential remodeling industry. The current housing inventory doesn't offer the features needed for safety and accessibility in the numbers needed to accommodate the ever growing demand. It is ultimately up to the individual homeowners and their families to plan for future housing needs. Once it is discovered that modifications to an existing home are not possible to accomplish total accessibility then it is time to consider a newer or custom built accessible home. Throughout the home, but particularly in high-traffic areas such as living rooms, dens and bedrooms, clear and wide floor spaces make for greater maneuverability for those with wheelchairs or other assistive devices. To accommodate room-to-room travel, consider removing doors between the thresholds of high-traffic rooms. Sturdy, textured rugs and mats secured to the floor heighten stability, while smoke detectors and other alarm systems with visual cues cater to the hearing impaired.
David L. Traut, CAPS the owner of T-Square Company in Austin, Texas is one of the select group of professionals nationwide to earn the Certified Aging-In-Place Specialist (CAPS) designation, identifying him as a home remodeler and builder with the skills and knowledge necessary to remodel or modify a home to meet the unique needs of the older population, disabled owners or their visitors.
Accessible homes of Austin