ADA Bathroom Cabinets In Austin
ADA Accessibility
ADA Compatible Showers
There are currently at least 30 million Americans using wheelchairs and those numbers continue to increase as a large population of people with age related challenges look for ways to live independently in their homes. The bathroom can be one of the most dangerous places in your home. The bathroom can present many access challenges to people who use a wheelchair or need accommodations. Bathroom safety is one of the number one concerns in making a home accessible because more than 2/3 of emergency room visits are due to bathroom falls. The tub and shower are the most hazardous areas for young adults and most falls for elderly occur near the toilet. Falls in the bathroom can be due to a wet floor, small spaces to maneuver, and/or bending and lifting required in accessing the tub, shower or toilet. The ultimate goal in accessible design is to make the bathroom space safe for everyone who uses the bathroom.
T-Square Company in Austin, Texas has been involved with home accessibility design/builds for over 30 years. We are CAPS certified and an A-plus member with the BBB. We use Universal Design to better accommodate wheelchair users and making the bathroom more accessible and comfortable for all users. These modifications can be accomplished without sacrificing style or beauty. The target for Universal Design is to blend into your home's surroundings without calling attention to the modifications. The concept also limits the amount of modifications required in the future. It is important to carefully plan the building or remodeling for a wheelchair accessible bathroom by taking inventory of the users capabilities and preferences. By filling out the attached form, you will be able to find out how an accessibility specialist is able to help you reduce the difficulty involved from facing architectural barriers within your home. You will gain the ability to freely maneuver about.
Bathroom sink and vanity accessibility specifications:
A sink should be mounted on the wall with scald protection having no cabinet underneath for both standing and seated users or one with enough clearance to provide open knee space.
A sink approached from the front of the sink needs to be 34" maximum rim height with a 27" clearance for knees or having a sink that can be approached from one side.
Installing single-handle faucets, which can be easily turned on and adjusted without having to grab or twist or installing hands-free faucets with a sensor that detects hands under the faucet will make the sink accessible.
Mounting a lower placed mirror, extra long mirror, or tilt mirror that everyone can use.
Using sturdy furniture/vanity that can be used to grab on to so one can use to maneuver around the bathroom when a grab bar is not within reach.
Consider placement of products that might need to be reached such as dental care, prescriptions, eye care/contact lenses, first-aid supplies.
Other items to consider storage and access for are: hair dryers, curlers, makeup, bathroom linens, and bath cleaning supplies.
Installing low drawers that pull out fully increase accessible storage options.
Although more expensive, a vanity with electrically adjustable height counters offer accessibility to all users.
Roll Under Vanities Do Not Have To Look Institutional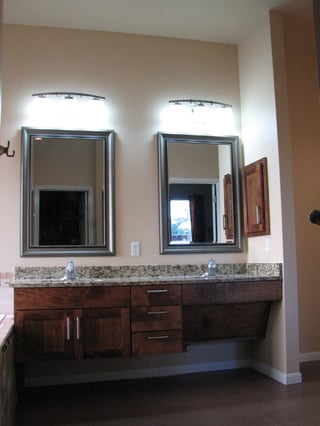 By filling out your contact information you can find out how an accessibility specialist can help you achieve the independence you once had in your bathroom. Find out about:
ADA Vanities

Handicap Accessibility

Elder Construction

Wheelchair accessible Remodeling

Disability Remodeling

Accessible Storage Solutions